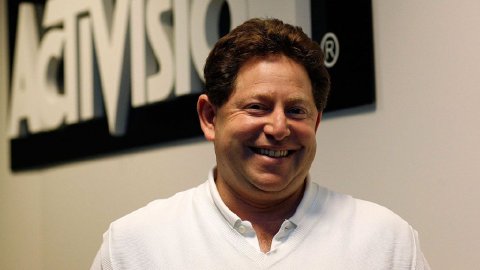 Blizzard case
Blizzard
was until recently one of those dream companies, an example for all the industry. Each game produced was a success and was not released on the market until it passed rigorous quality tests. Then something happened, the founders left and went from Blitzchung to Warcraft 3 Reforged, all the way to the current and shocking case of harassment. According to a recent report by Jason Schreier behind all this was Activision's increasing influence in the company's business, which has gradually eroded the studio's positive values.
Despite the problems, according to Bloomberg's colleague, many of the women who work or have worked at Blizzard said they loved so many aspects of their jobs. But then in the last 3-4 years Activision has become more pressing and made things more difficult in so many ways, eroding those parts of the Blizzard culture that were healthy.
According to the report Activision would have started to intervene more pressingly on Activision's jobs, imposing unrealistic release dates and cutting resources, something that obviously has increased stress and overtime in all departments. The result
of this new
management was the disastrous Warcraft III: Reforged which would have been a mix of mismanagement and pressure from Activision. Even the company was seen as the eye of Sauron, a quote from
The Lord of
the Rings.
Activision
CEO Bobby Kotick
Staff cuts came with rewards to managers who found more resources. The threat was that of layoffs, which have occurred en masse in recent years with the blessing of the company's CEO, Bobby Kotick.
All by creating untouchables, "rock stars" who could do and act as they wanted within the company with the approval of the management. A situation that would lead to situations of power and feeling of being untouchable that would lead to California's trial against Activision Blizzard.
Did you notice any mistakes?
---
Activision Blizzard faces an investor lawsuit stemming from its discrimination case
A harassment and discrimination lawsuit from the California Department of Fair Employment and Housing (DFEH) isn't the only legal battle Activision Blizzard has to worry about anymore. Ahead of the company's Q2 earnings call on Tuesday, a firm called Rosen Law filed a class-action lawsuit on behalf of investors who traded in Activision Blizzard securities between August 4th, 2016 and July 27th, 2021.
The firm, the same one that's behind a similar lawsuit against CD Projekt RED over the disastrous launch of Cyberpunk 2077, accuses Activision Blizzard of intentionally failing to disclose its ongoing problems with sexual harassment and discrimination. In doing so, Rosen Law alleges the company put itself at greater risk of regulatory legal scrutiny and enforcement. The suit names Activision Blizzard CEO Bobby Kotick, as well as several other executives, as defendants and seeks to recover damages for investors under federal securities laws.
The suit comes on the same day the company announced J. Allen Brack was "stepping down" from his role as president of Blizzard Entertainment. In its lawsuit, the State of California accuses Brack of taking "no effective remedial measures" to curb the "bro culture" that enabled individuals like Alex Afrasiabi to harass the company's female employees. Taking his place are Jen Oneal and former Xbox executive Mike Ybarra, who will oversee the studio as co-leaders.