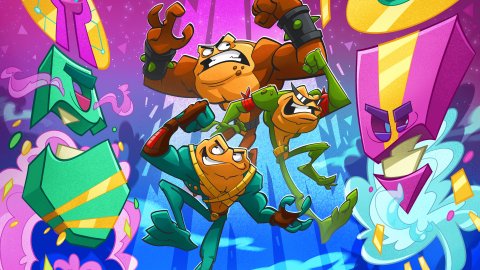 Battletoads
Let's see this video that celebrates the first anniversary of Battletoads, the reboot of the famous fighting game series released a year ago on PC and
Xbox
One. Unfortunately, the video does not announce anything new, so don't expect any extra content, but it's just a way to celebrate 365 days since launch.
For more information, please refer to our review of Battletoads, in to which we wrote:
Battletoads is half a disappointment, not so much because it is a bad game. Indeed, quite the opposite. Its basic problem is the one expressed at length in the article: it does not have a strong identity in terms of gameplay, despite the various phases from which it is composed are not badly realized. As it is, it almost looks like a collection of luxury mini games, but it fails to make its mark in any way. We hope that the developers will use the work done to make a full scrolling fighting game, abandoning everything else.
For the rest we remind you that Battletoads is also available on
Xbox Game Pass
and is playable in backward compatibility
on Xbox Series X
and S.
Have you noticed any errors?
---
8 Video Game Cheats You Were Forced To Use
Oh Game Genie, how brilliant you were.
For those not in the know, the Action Replay and Game Genies console upgrades were third party hardware that you could plug into your home systems and use them to crack open your favourite titles in ways that the developer would turn white as a sheet at.
Endless money cheats, level skips, access to cut content and of course, infinite lives were now yours for the taking. However, in some titles, this access to endless retries wasn't actually something that felt unfair, as with the likes of Battletoads, there's a good chance you'd need this boost in order to make it through the bloody game.
As we have discussed many, many times over, Battletoads is 'made of granite then coated in diamonds' hard, made even worse when you could accidentally batter your friend in the two-player mode, and therefore having access to infinite lives thanks to the Game Genie was pretty much essential.
It's true that you'd still need the skill to make it past the likes of the jetbike sections, and contend with the fact that many people seem to overlook that the game gets harder from that point on, but having endless attempts might help you finally remember the combination to squeak a victory over the finish line.