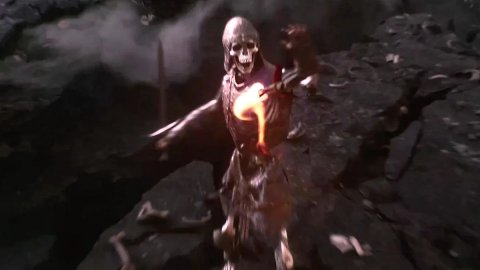 Avowed and The Outer Worlds 2 already playable
Avowed and The Outer Worlds 2 already exist in playable form,
at least according
to what Josh Sawyer wrote on Twitter. We imagine that, at least the second, is still very immature and not close to what the full
game will be
, since development seems to have started recently, but evidently some progress has been made to allow Sawyer to write a similar comment.
The joke of the well-known designer, who worked among others on Pillars of Eternity, Fallout: New Vegas and Icewind Dale, was born from a game on Twitter that requires you to indicate the last five games played. Sawyer did it, but distinguished published games from "not yet published" ones, which include virtually all projects in development in the secret rooms of Obsidian Entertainment.
For the record, those published are: Death Trash, Hitman: Blood Money, Backbone, Pathfinder: Kingmaker and Prey; while the unpublished ones are Avowed, The Outer Worlds 2 and its game, whose title has not yet been revealed.
Avowed, The Outer Worlds 2 and Sawyer's secret game will be three PC /
Xbox
exclusives, as Obsidian is now part of Xbox Game Studios. We will see when they will be presented and published. Hopefully at least one will arrive in 2022.
Have you noticed any errors?
---
The Outer Worlds 2 Could Get Improved Mechanics With Unreal Engine 5
The Outer Worlds 2 still has a long way to go before it will be ready for an official launch. Its predecessor, The Outer Worlds, may have gotten a lot of positive feedback, but its gameplay was negatively critiqued. It all came down to the game's mechanics and combat gameplay, which The Outer Worlds 2 is expected to improve, via Unreal Engine 5.
A news update that further solidifies this information is a recent job listing that was found on video game developer Obsidian Entertainment's career page. The listing is asking for a Technical Artist who is knowledgeable about the Houdini engine, in addition to a solid understanding of how Unreal Engine 4 and Unreal Engine 5 work. It would seem that Obsidian Entertainment is working on something that entails a potential engine switch—from UE4 to UE5.
Epic Games unveiled Unreal Engine 5 in May 2020 and highlighted that this new system will unleash the power of next-generation machines. It is made up of two key components, namely Lumen and Nanite. The former is a fully dynamic real-time global illumination feature that automatically reacts to light and scene changes. The latter, on the other hand, is a virtualized micro polygon geometry system that allows game designers to create as much detail as can be seen without compromising speed.
The Outer Worlds 2 may not be the only game Obsidian is currently working on, but it does fit the Unreal Engine 5 bill. Apart from The Outer Worlds 2, Obsidian is also busy finishing Avowed and Grounded. Grounded is already playable in early access and it is confirmed to not be running on UE5. Not a lot of information has been provided regarding Avowed, but since it has been in development for so long, it might already be done before UE5 even becomes ready for application.
SOURCE