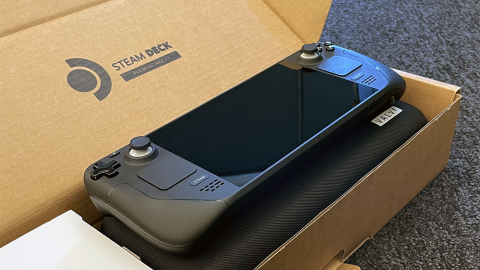 Steam Deck
Steam Deck is basically a PC but still has specific aspects that can be exploited. For this reason Valve is preparing dev kits to be sent to its partners and to be used expressly for optimizations aimed at running the games to the maximum on the new portable machine (calling it a console is a bit of an understatement). This was communicated by the company itself on Steamworks, where it also showed a photo of one of the dev kits.
Dev Kit Steam Deck In a developer FAQ, Valve also explained how it intends to overcome incompatibility with some well-known anti-cheat systems:
My game uses anti-cheat systems that do not currently work with Proton. How do I do with Steam Deck?
We are working with BattlEye and EAC to get
support for
Proton ahead of launch.
For those who don't know what Proton is, here's a very quick explanation provided directly by Valve:
Proton is the compatibility layer that allows
Windows
games to run on Linux using a modified version of Wine and a series of high-performance graphics API implementations.
Steam Deck will have SteamOS 3.0 as an
operating system
, which will be based on Arch Linux. However, being a PC, it will allow you to install other operating systems without problems.
Finally, speaking of integrations with Steam, Valve has specified the presence of some functions by default:
Supports Steam Cloud. This feature allows players to start a game on the PC and continue it seamlessly on the Steam Deck or vice versa.
Supports offline mode - test your
game without
any online connectivity, including a first start on a new account. Steam.
Have you noticed any errors?
---
Steam Deck is an AMD-powered handheld PC from Valve that runs KDE on Arch Linux
Image: Valve
Valve has taken the wraps off a portable PC it has called Steam Deck, which is set to begin shipping in the US, Canada, EU, and UK in December.
Ostensibly a handheld gaming device that is in the same realm as the Nintendo Switch, under the hood, the Steam Deck runs SteamOS 3.0, a new version based on Arch Linux, with KDE Plasma used for desktop mode.
While Valve has said the Linux system will use its Proton compatibility layer to run games designed for Windows, the company said users are free to replace it.
'Steam Deck is a PC, and players will be able to install whatever they like, including other OSes,' it said.
Hardware-wise, Valve said it worked with AMD on a custom 4 to 15-watt APU that has a 4-core Zen 2 CPU and 8-core RDNA 2 graphics unit, as well as 16GB of memory. The Deck contains a 7-inch 1280x800-resolution touchscreen, has a number of trackpads, thumbsticks, buttons, and triggers for input. The 40Wh battery is said to allow around two to eight hours of use, and is charged via a single USB-C port that is also used to connect monitors and docks.
The Deck has three storage options: A base level of 64GB eMMC using PCIe Gen 2, and 256GB NVMe SSD and 512GB 'high-speed' NVMe SDD that both use PCIe Gen 3. The storage level chosen determines the cost of the Deck, with unit retailing for $400, $530, and $650 respectively.
There is also a microSD card slot to allow users to store games and have more storage.
Valve said it would also have an official dock that would have one USB-A 3.1 port, two USB-A 2.0 ports, with one ethernet, DisplayPort 1.4, and HDMI ports apiece.
The Deck is far from Valve's first attempt to push Steam OS, with the Linux-based Steam Machines falling flat when they appeared in 2015.
'It's a Linux system, you know this!' says Valve
Image: ValveElsewhere in Linux