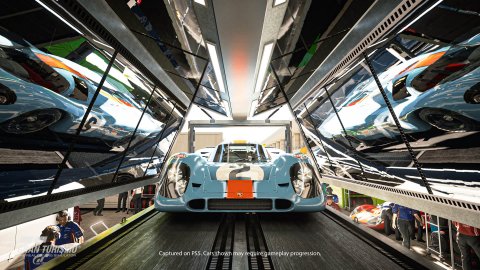 Gran Turismo 7
Gran Turismo 7
may have a beta test version coming in the next few days, as it has appeared, perhaps by mistake, on the official
PlayStation
website, in a somewhat hidden section and perhaps still being defined.
The report comes from the GTPlanet site, which reports the presence of this Gran Turismo 7 Beta within the official PlayStation site and in particular in the PlayStation Experience section, which is an app rarely used by
Sony
but linked to initiatives such as demos and stages of beta test that the company has used in certain cases, usually in conjunction with live events.
Considering that the initial launch corresponds to the organization of the 2017 PlayStation Experience in Anaheim, this information could also open perspectives on the alleged event of presentation coming from Sony during the summer, which according to some could be just a new PlayStation Experience.
But beyond the sp eculations, here's how the matter works: by going to the PlayStation Experience section of the official website, you can select "Start Quest" by logging into your account and then select "Related Campaigns" and then "Italia Quest".
Gran Turismo 7: the beta test appears as a "quest" in the PlayStation Experience section of the site Inside we find the "Gran Turismo Beta (Test)". At this point, all there is to do is watch the Gran Turismo 7 video and thus obtain the "early Beta code". The strange thing is that the latter seems not to work and to be a sort of placeholder that cannot be redeemed, which suggests an early release of the initiative, which will be properly launched perhaps in the next few days.
It is therefore likely that a beta version of Gran Turismo 7 will be made available shortly and all this also seems to consolidate the idea of ​​a PlayStation Experience or an event of the kind coming in the course of the summer, let's stay awaiting further information.
In the meantime, we have learned that Gran Turismo 7 has been postponed to 2022 and will arrive on both
PS5 and PS4
as a cross-gen.
Source You've noticed errors ?
---
Gran Turismo 7: PS5 Beta Test Seemingly Leaks
Gran Turismo 7 will seemingly be getting a public PS5 beta, after an official PlayStation website appeared to leak a registration page.
As reported by GTPlanet, the Sony's Experience PlayStation website currently allows you to sign up for a beta, but only provides you with a placeholder download code. To try it for yourself, head to the Experience PlayStation link above, click 'Begin Quest', then head through 'Related Campaigns' -> 'Italia Quest' -> 'Gran Turismo Quest'.
You'll then need to watch 10 seconds of a Gran Turismo 7 trailer, after which you'll be offered a beta code... which sadly doesn't work, because it simply reads 1234-5678-9012.
While the beta codes, and the beta itself, don't appear to be live as of yet, it seems likely that Sony is gearing up for a beta test (which it has previously run before the release of Gran Turismo Sport). The beta codes are listed as being for PS5 only.
Many will be hoping that a beta comes sooner rather than later, not least because Gran Turismo 7 was delayed into 2022 due to 'COVID-related production challenges.' It's one of a swathe of games delayed in 2021, including several of the PlayStation exclusives announced last year.
Joe Skrebels is IGN's Executive Editor of News. Follow him on Twitter. Have a tip for us? Want to discuss a possible story? Please send an email to newstips@ign.com.