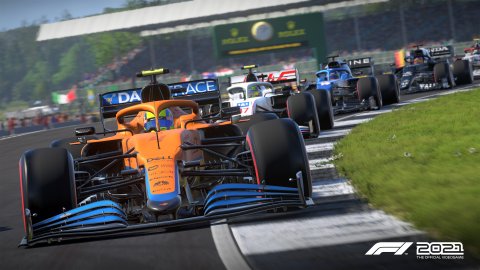 F1 2021 for PS5
F1 2021 patch 1.04 removed ray tracing from the PS5 version of the game because it was giving gamers a lot of problems. Given the too many complaints about the instabilities that plagued the game, Codemasters was forced to run for cover, deactivating everything. Ray tracing remains on
Xbox Series X
and PCs with Series 20 and 30 RTX cards. It will likely be restored when it is more stable.
Otherwise F1 2021 patch 1.04 doesn't do much, if don't fix a problem with your saves. If you want to know more about the game, read our review, in which we wrote:
We were expecting a very similar game compared to the last edition, but we were pleasantly surprised by the content and the driving model brought by Codemasters in this F1 2021. We faced the new Braking Point adventure with a lot of curiosity, pleasure and a sense of challenge, then launching ourselves into the classic and more complex career modes. The driving model with the pad or the steering wheel seemed simpler at first glance, but trying to push the car to the limit, we were still able to enjoy a good level of challenge. Also promoted the new damage system, which increases the level of depth and complexity in the gameplay. The visual sector, while receiving an evident improvement on PC and on new generation consoles, still has room for improvement for the future. Also missing are all the tracks present in the official Formula 1 championship, which will be added later with a free update. Finally, we also want to praise the high amount of options and driving aids present, thanks to which it is possible to live a satisfying experience with any level of driving ability.
Before leaving we remind you that F1 2021 is the latest incarnation of the series of racing games with official FIA license, in the hands of Codemasters, then
Electronic Arts
. It is available for PC,
PS4
, PS5, Xbox One, Xbox Series X and S.
Source Have you noticed any errors?
---
F1 2021 Update Temporarily Disables Ray Tracing in PS5 Version
Codemasters' F1 2021 released recently for Xbox and PlayStation platforms along with PC, and though it's been running well on most platforms, the PS5 version is a different story. The latter suffered from performance issues due to its ray tracing. As a result, update 1.04, which went live for consoles recently, has temporarily disabled the feature.
This is being done to "aid stability" for the time being and Codemasters is looking to "re-enable this as quickly as possible." It will provide an update to fans "in due course." F1 2021 is the first title in the series to use ray tracing for its cutscenes, replays and Photo Mode along with the front end. It remains to be seen whether this issue can be fixed for the PS5 version.
F1 2021 is also available on PS4, Xbox One, Xbox Series X/S and PC along with PS5. You can check out review for it here. Along with several changes to the R&D tree and other mechanics, it adds a new story mode called Braking Point, co-op Career Mode and much more. Stay tuned for more details on updates in the meantime.