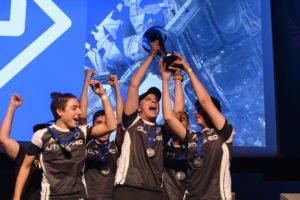 The Spring Season of ESL Flowe Championship, the first green
esports
tournament in the world, ended in the last few hours. It was, in fact, the first CO2 compensation competition, designed to support the environment and raise awareness in the world of Entertainment on Green issues. In addition to the social part, the competitive side of the tournament also had great space, crowning the CoD and Gran Turismo Sport champions on PS4.
The main objective of the ESL Flowe Championship was to create a eco-green championship, sensitizing the community to environmental issues and aiming to offset CO2 emissions globally, through a concrete initiative to support future generations.
The winners of the ESL Flowe Championship In the project are LCA-lab, an environmental research and consultancy company, and ZeroCO2, a benefit company that carries out projects for reforestation, afforestation, planting of trees in urban and extra-urban areas in different places in the world were involved.
LCA- lab srl has carried out a Carbon Footprint study simulating a representative scenario which estimated that, during the entire tournament - in which over 1,200 players participated by getting involved in respect of the planet - the emissions of CO2 were equal to 64,404 KG CO2eq.
Thanks to these data, zeroCO2 has planted 160 trees which will absorb the calculated amount of CO2eq and which will support peasant families in Latin America, favoring their livelihood.
The titles selected to compete for the title of national champion were Gran Turismo Sport, in which Giorgio "Williams_Gio" Mangano triumphed, and Call of Duty
Black Ops Cold War
which saw the victory of the B04 Star.
The finalists shared a prize pool of € 5300 and 3
PlayStation
5s, perhaps the most coveted object of the entire competition.
Have you noticed any errors?