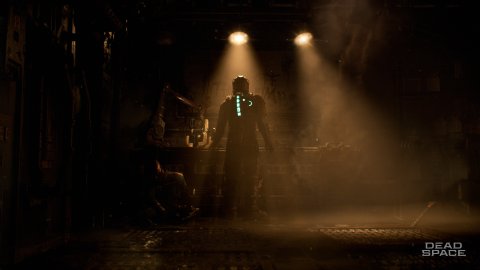 Dead Space Remake
is presented as a major makeover by EA, which has entrusted the development to Motive Studios for a large-scale project focused on graphical improvements but also new content, some of which are taken from cut elements in the original.
Completely rebuilt on Frostbite Engine, Dead Space Remake can count on a technology belonging to the new generation of platforms, which will lead to substantial technical evolutions. According to the creative director, Roman Campos-Oriola, this game is not a reboot or a remaster, but a complete and full-blown remake.
Dead Space will
therefore be based on "new assets, new models for the characters and new settings ", but obviously keeping everything faithful to the original style and vision, while using new tools. New technical solutions will contribute to improving the mood and the atmosphere, such as the application of volumetric effects capable of increasing the effect of amplitude of the settings and giving a different sensation on the density of the air.
Other changes fundamental in appearance, which will affect the atmosphere and the tension, derive from the completely redesigned lighting system, with dynamic light sources and shadows, which will also be reflected in the gameplay by modifying the visibility of the areas.
As for the contents, the creative director explained that Dead Space Remake will implement elements cut from the original, mainly due to the technological constraints of the time: Campos-Oriola explained that Motive has come into possession of the original assets of Dead Space and noted how the structure of some levels was more complex than it appeared in the final product, with some additional elements being then removed to make the game more digestible to hardware of the time.
The idea is to recover these elements and stage the original vision of Dead Space without the cuts that characterized the version released on the market on
PS3 and Xbox 360
, as well as some integrations also taken from subsequent chapters , like the larger zero gravity sections of Dead Space 2.
As we have already known, Dead Space will have elements taken from the sequels but no microtransactions, to learn more we refer you to the special with 5 things
to know about
remake in question.
Source # 1 Source # 2 Did you notice any errors?