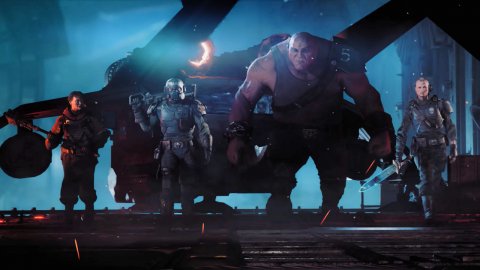 Warhammer 40,000
Warhammer 40,000: Darktide is written by Dan Abnett, author of several books set in the universe created by Games Workshop, as well as Middle-earth: Shadow of Mordor.
Announced with a trailer last July, Warhammer 40,000: Darktide will land on PC
and Xbox Series X
| S in the course of 2021: perhaps the precise release date will be announced at E3 2021.
In the video below, Abnett talks about his experience with the writing of Darktide, of the characters and their peculiarities, as well as of his personal vision relating to the new title of Fatshark.
It is clear that the support of such a well-known and talented author will increase the narrative depth of the game, which will therefore be able to involve us in its atmosphere rather than rely solely on in-game action.
In any case, Darktide will not mark Fatshark's debut with the Warhammer universe, but will mark a new step in same territory after the excellent Warhammer: Vermintide 2.
Source Have you noticed any errors?
---
Warhammer 40,000: Darktide launching later this year on Xbox Series X|S
During last night's Warhammer Skulls Showcase livestream, developer Fatshark shared a few details about its upcoming co-op action game, Warhammer 40,000: Darktide, including the news that Warhammer author, Dan Abnett, will be co-writing the game. Darktide is expected to launch later this year on Xbox Series X|S and looks like it'll need that power to let you effectively destroy your enemies.The Warhammer Skulls festival is well underway and last night's showcase live stream (thanks, VG247) gave us all a good look at the new Warhammer 40,000: Darktide game, developed by Fatshark. The 40k universe is absolutely filled with monstrous creatures, both humanoid and bestial, so when the studio tells you that you'll be playing as a human amongst these goliaths, you know it's going to be an uphill battle — that's intentional by the way because Fatshark wants you to feel vulnerable when exploring hostile environments. Darktide is a co-op action survival-horror in the same vein as Vermintide, except this time you get big guns. Your group of feeble humans would do best to remain close to each other as you explore a hive city and attempt to eradicate heretics and Chaos forces for The Inquisition — seriously, couldn't they get the Space Marines to do this?
Similar to Vermintide, you can access a central hub to pick up new missions, each time earning favour with The Inquisition to unlock new missions and items. The missions and storyline are being co-written by Dan Abnett, who has plenty of experience writing for the Warhammer 40k universe, plus he also lent his expertise to Alien: Isolation and Monolith's Morder games, so he's not averse to video games either.
Warhammer 40,000: Darktide is expected to release later this year on Xbox Series X|S and will launch straight into Xbox Game Pass. Will you be gathering some buddies to eradicate the Chaos threat? Let us know down below!