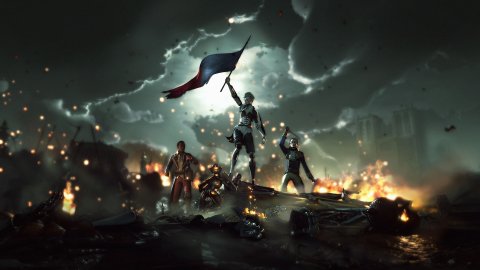 Steelrising
Steelrising, the new title developed by Spiders, was shown with the trailer made for E3 2021, which reveals some details about the story and setting of the game.
Announced at Nacon Connect in July, Steelrising will be available in course of 2022 on PC,
PS5
and Xbox Series X
| S, so let's talk about an experience designed specifically for next-gen platforms.
In 1789, in an alternative Paris, with iconic places and monuments adapted by Spiders developers, the French Revolution has stalled. The people's revolt was heavily suppressed by an army of automatons, deployed on the orders of the king.
1789 is the year of the storming of the Bastille and the beginning of the fall of the monarchy. Steelrising stages an alternative version of the story: what would happen if King Louis XVI, a lover of watchmaking, had built an army of robots capable of quelling the insurgency?
Powerful and cruel, this army spares no one and violently punishes the rebels. Paris burns and bleeds. Men, women and children are systematically massacred.
In this terrifying chaos, you play as Aegis, an exceptional automaton and bodyguard of Marie Antoinette. Appointed by the queen, Aegis will have to sail through a Paris teeming with cars.
Every fight with these mechanical enemies is a challenge where the player's skills are put to a tremendous test. Such is the price to pay for those who want to change the course of history.
Have you noticed any errors?
---
Steelrising Receives New IGN Expo Trailer
Last year saw Nacon drop the first teaser for Steelrising, the latest game from developer Spiders following their successful action-RPG title GreedFall. And now during the recent IGN Expo showcase, we finally received another new teaser, this one focusing a bit more on the game's story and world while allowing us to see the game's automatons in motion. Set in Paris circa 1789, Steelrising dares to ask the question "What if the French Revolution had killer robots?" which is, of course, a question we have no doubt asked ourselves several times over in the past. We get a bit of narration, glimpses of our player character, the female automaton Aegis, and just enough combat and cool steampunk-esque robot designs to leave us wanting more. No release window yet, but Steelrising will be due out later for PC, XSX, and PS5.