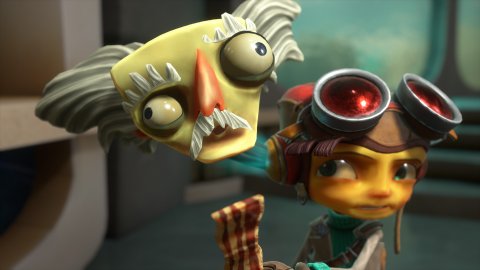 Psychonauts 2
Psychonatus 2 returned to show itself during yesterday's
Xbox
Showcase Extended event in a long video commented directly by Tim Schafer, head of the game and head of Double Fine, which we see above and focused on various aspects between history and gameplay.
In the seven and a half minutes of video we can see a large number of elements of Psychonauts 2, so much so that we can also run into some spoilers, which is why we warn here of the possible presence of anticipations since Schafer performs a 'wide overview of various levels and situations in which the protagonist Raz will find himself.
Schafer quickly explains different characteristics of Psychonauts 2, starting from the basic skills of the protagonist that lay the foundations for the assorted follies that will be put on the screen, that is the possibility to enter the minds of various people and try to fight the problems that crowd them.
The result is a long review at various levels, enemies, bosses, assorted situations and environments that also demonstrate a remarkable variety of atmospheres and gameplay solutions. The fact that Schafer does not skimp on information and scraps of gameplay, without fear of revealing too much, could also be a sign of a large amount of content planned for the game.
On the other hand, Psychonauts has been in development for quite some time, started with a crowdfunding fundraising campaign in 2017 and finally came to fruition with release scheduled for August 25, 2021. Since this is a project that started out as a multi-platform, it will be released on all consoles initially planned as crowdfunding despite Double Fine has, in the meantime, become an
Xbox Game Studios
team, but as previously reported the game will be a "next gen exclusive"
on Xbox Series X
| S, showing up on
PS5
only in backward compatibility. On the occasion of E3 2021 we also saw a new gameplay trailer.
Have you noticed any errors?
---
Psychonauts 2 Extended Gameplay Showcases New Enemies, Abilities and More
During the Xbox Game Showcase Extended, Double Fine Productions founder Tim Schafer appeared to offer more details and gameplay of Psychonauts 2. It starts out by showcasing a level set in the mind of Dr. Caligosto Loboto, who fans will recognize as the first game's villain. Venturing into his mind to discover some key information uncovers a number of different things – check it out below.
Along with lots of teeth (because Dr. Loboto is an amateur dentist), Raz will encounter familiar and new enemies including the Censors, Doubts and Regrets. Combating these foes means using abilities like psychic punches, pyrokinesis and so on. Another level, which was first revealed along with the new Mental Connections Psi-Power, is set in Hollis Forsythe's mind and features a casino hospital, of all things.
Psychonauts 2 is out on August 25th for Xbox One, Xbox Series X/S, PC and PS4. It will also be available day one on Xbox Game Pass. For more gameplay footage, check out the previous trailer here.