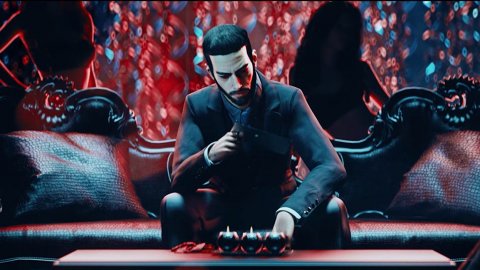 PC Gaming Show E3 2021
The PC Gaming Show E3 2021 took place last night and it was, as in previous editions, an event really full of news clearly concerning the PC world, embracing various productions from triple A to indie, so let's see a bit of a summary of the major news that emerged in the evening, including games and various announcements.
You can review the entire event in the video above, which offers the entire PC Gaming Show E3 2021 staged last night, with all the various announcements and trailers shown during the presentation.
Among the titles announced at the start of the event, there was the interesting Naraka Bladepoint, a sort of action RPG focused on fighting, which presents a particular Oriental setting between magic and white weapon martial arts, all coming on August 12, 2021.
Among the indies, also out on consoles, space was dedicated to the particular Dodgeball Academia, while there was no lack of , even in this case, the usual Chivalry II, the mass fighting
game that has
appeared on several occasions in various events this summer. Returning to the facetious and indie atmospheres Rawman was shown, also a competitive team multiplayer.
Among the high-caliber games,
Dying Light 2
Stay Human has returned to show itself, with some gameplay sections that it has given way to better evaluate the game and also have some idea about the story behind it all, which sees the protagonist Aiden looking for his sister Mia from whom he was forcibly separated, and obviously surviving the apocalypse.
Humankind was illustrated with a trailer that also presented the release of the new closed beta available from today, while
Sega
continued with They Always Run, an interesting 2D action. Among the biggest surprises shown at the PC Gaming Show was Vampire: The Masquerade Swansong, shown with a presentation trailer and coming to all platforms.
Following is a particular title inspired by classic Japanese animation and to kaiju with GigaBash, which offers battles between robots in various settings. Remaining in science fiction but much more serious is also Lemins Gate, a
new first person
shooter. Still in the field of science and the like, Next Space Rebels coming this fall
allows you to
build and test rockets, starting from a simple garage or almost, while in space it is also Ixion, arriving in 2022.
Among the more fascinating games we also include Far: Changing Tides, which takes up the particular concept of the previous chapter by proposing a setting with variable water levels. Among the best known was also Killing Floor 2, arriving on June 22, 2021 therefore almost upon us, while already available is MechWarrior 5 which was visible with a new trailer.
Among the most anticipated games also Hello Neighbor 2 and Jurassic World Evolution 2, but Soulstice and the well-known Chernobylite are also very interesting, even if it is only a selection among the many titles presented in the event. Icarus, Death Trash and Songs of Conquest have also returned.
Have you noticed any errors?
---
PC Gaming Show: 3 can't-miss games from the E3 livestream
The PC Gaming Show at E3 2021 had a ton of games for viewers to take in — one could even argue that it bordered on too many. There were titles for everyone: Hardcore RPGs, management sims both on Earth and in outer space, and tons of shooters for players to wear down their keyboards and mice.
While the show, presented by PC Gamer, had a ton of great games, there's simply too many to list them all in one place. Instead, here are some of the highlights of 2021's PC Gaming Show.
They Always Run
They Always Run gives away its premise with its name. In it, you play as a bounty hunter, but with a sci-fi twist. It stars a mutant with an extra arm. For any other person, that would likely get in the way, but for protagonist Aidan, it's a gift to be able to carry one more blaster. The game is also set in space, so players will chase some alien criminals down instead of boring humans.
A trailer for the game that aired at the PC Gaming Show showed off the mutant's speed and agility, skills with a sword, and his three guns at work. They Always Run doesn't have a set release date yet, but will come out sometime this year.
Vampire: The Masquerade – Swansong
While it's not Bloodlines 2, Vampire: The Masquerade – Swansong seems perfect for those looking for a narrative-heavy approach to the Masquerade universe. Swansong's latest trailer highlighted one of its three playable vampires, a Malkavian. Those who are versed in the various breeds of vampires in the Masquerade universe will know that this one's curse is that she's likely clinically insane — which would explain her hallucinations of a daughter.
Today's trailer didn't feature any blood-curdling action (that's for other games in the franchise), but it did flesh out a bit more of the game's story leading up to its release later this year.
Ixion
Ixion was one of many, many space-based games revealed during today's PC Gaming Show. It's also a management game, lumping it in with another large group of titles presented today. However, its premiere trailer stood out so much that it had to be mentioned. In Ixion, the Earth is dying, and a corporation named Dolos takes up the task of sending humans off-planet. To that end, the company has built a massive space station, with engines ready to blast humanity far away from the Earth. After a long, impassioned speech from the company's CEO, the ship takes off, crashing into the moon and taking out a chunk of the celestial body in the process.
In the game itself, players will have to make the hard choices that come with running a space station, including things like exploration and population control. It sounds stomach-wrenching, but we'll know more about Ixion when it launches sometime next year.
Editors' Recommendations