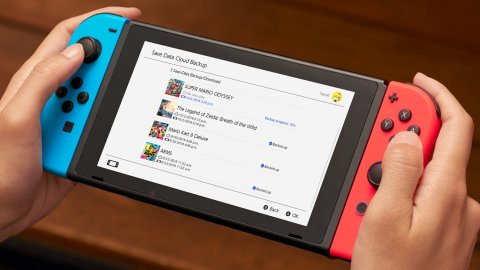 Nintendo Switch
Nintendo Switch
was the
protagonist of
a strange case a few days ago, with the release of an update that was then promptly removed, from which, however, several users complain of
problems with
their console, related to error 2123-1502 which still has no official solution except for some maneuvers provisional.
On June 8, 2021, Nintendo Switch obtained the 12.0.3 update, which was however removed a few hours later, initially without explanation from Nintendo. Subsequently, it emerged that this update caused a proliferation of the error 2123-1502, spread in a non-massive way but still present on the consoles of various users, for which there is still no official solution.
It seems that even regardless of downloading the correct version of the software update, various users
continue to
run into error 2123-1502 which occurs in different situations: some users are unable to download games digitally, others cannot download patches and others run into the error trying to download DLC or with the latter not registered.
Basically, it seems to be related in some way to recognizing digital content on the console and the strange thing is that Nintendo does not yet have an official and definitive solution for this problem. The FAQ proposes a series of interim solutions that could solve the problem, including:
Attempt the download several times Restart the console Clear the console cache (option present in the formatting options in the System section menu) Re-establish internet connection manually Change DNS manually Connect to other internet connections
As reported by Forbes, this is a rather atypical situation for Nintendo and Nintendo Switch in particular, which however does not seem to be resolved yet, as evidenced by the reports still arriving on Reddit.
Source Have you noticed any errors?
---
Error Code 2123-1502 Has Broken The Nintendo Switch For Many Players All Week
(Photo by Chesnot/Getty Images)
Getty Images
Just under a week ago, Nintendo released the relatively innocuous 12.0.3 update which wasn't supposed to do anything major to the Switch. But something…went wrong. Just hours after putting up the update, Nintendo took it down and restarted its distribution.
But in the week since, many of the problems the initial update caused are still ongoing, and Switch players are being hit with a specific error code, 2123-1502.
The problems manifest in a few different ways. Some players are unable to download games. Others cannot update them with new patches. Others are finding their DLC is not registering anymore. And there does not seem to be any immediate resolution in sight.
Nintendo, for its part, has not offered much guidance other than a troubleshooting FAQ list of solutions which include:
Retry the download multiple times until it works.
Restart the console.
Clear the cache on the console.
Re set-up your internet connection.
Manually enter an alternate DNS.
Connect to the internet…somewhere else.
But many players are having ongoing issues despite trying many of these steps.
It's unclear how many players are affected by this, but it's been enough to re-surface the issues in multiple places on forums like reddit, noting that Nintendo has not fully fixed this issue or issued any further public statements past what they put out almost a week ago. If error 2123-1502 is happening to you, you can try those steps, but there isn't much else you can do at the moment. I've reached out to Nintendo for comment and will update if I hear back.
It's an unusual situation for Nintendo, which frankly does not have that many severe technical problems with the Switch, and few that last this long. Hopefully there's an update soon, but in the interim, just try the above steps and see if any of those work. If they do, let me know on Twitter so I can try to share which ones are the most effective with other affected Switch owners. And I wouldn't bother contacting Nintendo support, as reportedly they're just telling people to retry downloads multiple times, though that doesn't always work, and is also not the full extent of the issues in the first place.
Follow me on Twitter, YouTube, Facebook and Instagram.
Subscribe to my free weekly content round-up newsletter, God Rolls.
Pick up my sci-fi novels the Herokiller series, and The Earthborn Trilogy, which is also on audiobook.