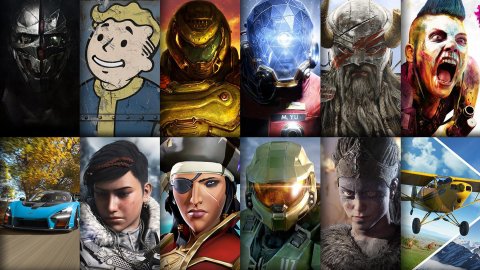 Xbox and Bethesda
Microsoft
will have a prominent place within E3 2021, with a specific conference that, according to the well-known insider Klobrille, will also contain announcements of 5 new triple A
games in development
between
Xbox Game Studios
and Bethesda.
On the pages of XboxEra, Klobrille reported this belief of his, which obviously we cannot take for absolutely reliable but which is at least likely, considering the history of the character in question. It should be noted that these would be completely new titles, at least according to what the insider reported, therefore nothing already announced or seen.
Between
Xbox and Bethesda
, the E3 2021 conference should be quite rich "The year last, during the Xbox Games Showcase, Xbox unveiled 4 new triple A projects from their studios: Forza Motorsport, State of Decay 3, Avowed and Fable, "wrote Klobrille. "For this year, between Xbox Game Studios and Bethesda, I think I already know about 5 completely new triple A games that will be announced this summer, some more predictable than others."
Hard to say what it is but from how the question is put, they seem to be games that have not been announced previously, which would also exclude Perfect Dark from the count, for example. In any case, this is only a part of what should be shown during the Microsoft Xbox presentation at E3 2021, from which news are also expected regarding the Bethesda catalog. to see Starfield at E3 2021 complete with a release date, with increasingly insistent rumors in this sense, but others also speak of
Forza Horizon 5
and more, in addition to the obvious presence of Halo Infinite, therefore these five new games they would be added to others already known.
Source Have you noticed any errors?
---
Microsoft and Bethesda to announce five new AAA games this summer, says Xbox insider
With E3 just around the corner, rumours have begun whirring in various forums on the internet. The latest comes from Xbox insider Klobrille, who claims that Microsoft will have five unannounced AAA games to reveal this summer.In an Xbox Era forum about
Xbox Game Studios
, the insider wrote in a thread about how last year's Xbox Game Showcase revealed four new AAA titles (Forza Motorsport, State of Decay 3, Avowed, and Fable). Klobrille then teases what's to come from Xbox Game Studios and Bethesda this summer. 'For this year, including XGSP and Bethesda, so far, I do think I already know about five completely new, AAA titles being announced this summer. Some more expected than others.
'Plans are still fluctuating, though. At the end of the day, I think it is a fair expectation that gameplay trailers and/or demos should have a bigger presence, at least for the already announced things coming this and next year.'
It's possible that one of the five games Klobrille mentions could also be the unannounced IP an Xbox exec teased recently. Ben Decker, Xbox's head of gaming services, said that Xbox Game Studios is working on a new IP 'that's going to blow your mind.' Matt Booty, Xbox Game Studios head, has also confirmed that Microsoft and Bethesda will hold a joint E3 conference this year. We're hoping to see updates on Halo Infinite, Forza Motorsport, Fable, Elder Scrolls 6, Starfield, and more.
Microsoft is yet to announce a time or date for its conference.
What are you hoping to see from Microsoft? Give us your thoughts in the comments below!