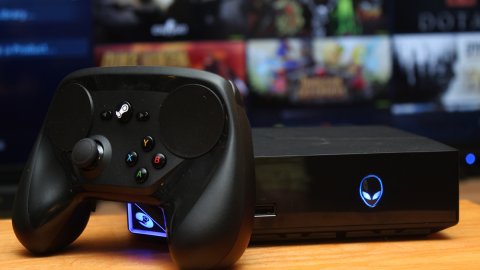 Valve could be working on a console
If from a software point of view, Valve's history is full of exceptional milestones and achievements (let's pretend that Artifact never existed?), The hardware division has far fewer notches on its belt. And it cannot be said that he has not tried. Over the years we have had Steam Link, Steam Controller and Index. The most ambitious project, however, is certainly that of the Steam Machines. It was a series of pre-assembled PCs that, in Gabe Newell's plans, should have combined the simplicity of consoles with the flexibility and catalog of Steam. Too bad that the prices and the fragmentation of the offer held back the success of the project, but, obviously, not Valve's ambitions. According to a former employee, in fact, Valve would have worked for a long time on a Steam Console, a "sort of Steam Machine, but done well". A project that has never seen the light, but which may still not
be completely
dormant inside the new hardware laboratory / production line in Factoria, Washington state.
About ResetEra the former employee of Valve talked about the project, saying the company had been working on a home
console for
a long time, but the process took a long time and never materialized.
According to his claims, Valve engineers were working on a real "PC console", in other words on a "Steam Machine done right". And then he added "it's a pity that nothing has been done about it". They should have been machines to be sold together with Index and Half-Life: Alyx with a subscription system, in order to make the costs sustainable.
A Steam Machine. But not all seems to be lost. The project has never been officially closed and "maybe it will stand out", this "because Valve
has created
from scratch a new hardware laboratory / production line at Factoria.
According to some, this would be the big news of 2021
suggested by
Gabe Newell. Would you like it as a project?
Have you noticed any errors?
---
Valve Boss Gabe Newell Hints at New Releases on Console Platforms
It sounds like Valve could be looking to bring more of its games to console platforms in the future. Thanks to a new tease from company CEO Gabe Newell, Valve could have more information to share later on in 2021 when it comes to more of the publisher's games appearing on Xbox, PlayStation, or even Nintendo hardware.
During a new question-and-answer session featuring Newell that appeared on Reddit today, the Valve boss was asked about the chance of seeing more Steam games (inferred as those directly from Valve) coming to consoles. Newell hesitated at first but then proceeded to say, 'You will get a better idea of that by the end of this year.' The statement from Newell immediately elicited a chorus of 'oooohs' from the crowd, which Newell himself hilarious then joined in on.
The notion that Valve would bring more of its games to console in due time isn't too much of a shock, even though it's not something we have seen from the developer all that often over the past decade. Then again, Valve as a whole hasn't created that many titles within the past ten years meaning that it hasn't necessarily avoided the console market. It has more just been a situation over the past few years where Valve hasn't created games that would be good for these platforms.
That being said, the title that seems to make the most sense when it comes to appearing on a console would be that of Half-Life: Alyx. Valve's critically-acclaimed VR game released early on in 2020 but has only been available on PC up until this point. Since PlayStation 4 and PlayStation 5 are VR-compatible thanks to PlayStation VR, there's a chance that Valve could look to bring Half-Life: Alyx to PlayStation consoles at some point in the future. Sony itself has also already confirmed that it's working on a next-gen iteration of PlayStation VR, meaning that there's a decent chance for Alyx to land on this platform as well.
Whatever Newell might be teasing here, it's good to see as a whole that Valve seems to have some interest in consoles. Whether or not that interest will amount to anything substantial remains to be seen, but it's worth keeping an eye on the company as we move forward into 2021.
So if Valve does start bringing more of its games to consoles, what would you expect to see it release on these platforms? Let me know either down in the comments or over on Twitter at @MooreMan12.