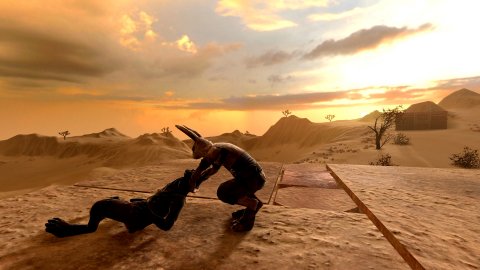 Steam
David Rosen, the founder of Wolfire Games, the Overgrowth studio, felt he had no choice before suing Valve for some Steam contract clauses that limit the ability of developers to intervene on the prices of their games: "gamers and
developers are
harmed by Valve's conduct. "
The statement came in a post on h
is official
blog, where Rosen explained how some elements that have become part of the cause, arise from the experience made by Wolfire Games with Overgrowth. According to him, his studio wanted to take advantage of stores that give developers a greater margin by selling the game at a reduced price. Unfortunately, the contractual obligation imposed by Valve to have to sell the games outside of Steam at the same price as its platform, prevented it from doing so.
Wolfire Games tried to bargain, but Valve notified him that if it was sold in another store at a
lower price
than Steam, Overgrowth would be banned.
The same
happened to
many other developers, but they didn't have the courage to lash out at Steam. For this Rosen has decided to take Valve to court, to see if certain contractual clauses are
compatible with
antitrust law.
According to him, Valve's pricing interference is one of the reasons many competing stores fail to keep up with Steam. "Gamers and developers should be able to make their choices freely."
Wolfire Games sued Valve to antitrust on April 27, 2021. We'll see how the lawsuit turns out.
Overgrowth Source Did you notice any errors?
---
Valve Facing New Class-Action Lawsuit Over Steam 'Monopoly'
Wolfire Games, the developer behind Overgrowth, is leading a class-action antitrust lawsuit against Steam's parent company, the Valve Corporation. The suit alleges that Steam uses its near-total dominance of the digital gaming market to coerce heavy commissions out of game developers and publishers.
Originally filed on April 28 in the US District Court of the Western District of Washington, the lawsuit is also being backed by two other individuals. According to Law 360, William Herbert of Florida and Daniel Escobar of New York, a pair of 'video game players,' joined the suit because they believe they have been harmed by Steam's practices. Specifically, Steam's commissions and use of its monopolistic powers have made games cost more for them.
In a post on the Wolfire blog, the developer's CEO, David Rosen, explained why he launched the class action lawsuit. 'I felt that I had no choice, because I believe gamers and game developers are being harmed by Valve's conduct,' Rosen wrote.
Throughout the post, Rosen explains the actions taken by Steam that led him to launch the suit. Allegedly, when Rosen wanted to bring Overgrowth to other digital storefronts at a lower price due to their lower commission rates, Steam stepped in. According to Rosen, the Valve-owned giant said that if Overgrowth was sold on any other platform at a lower price, even on Wolfire's own site, without Steam keys or Steam's DRM, the game would simply be removed from Steam altogether.
Games on Steam cannot be sold by their developer or publisher at lower prices on other storefronts according to Rosen
Speaking to other developers, Rosen found fears of what was described as a 'monopoly,' that rendered them helpless. This led to Rosen wondering if Steam's actions were breaking antitrust laws and eventually the filing of the class-action lawsuit.
According to the lawsuit, these practices are put in place to ensure that Steam continues to receive its 30% commission from games sold. It goes on to allege that 75% of all PC game sales go through Steam, and the company's 30% commission nets Valve 'over $6 billion in annual revenue.' It goes on to claim that this commission 'yields higher prices and less innovation' for everyone else.
This suit comes at an inopportune time for Steam. The Epic Games Store, which was recently revealed to not be profitable for Epic Games, already charges a 12% commission to developers and publishers on its platform. Microsoft's storefront has also recently changed its commission to match Epic's 12%.
Speaking of high-profile lawsuits, the Epic Games V. Apple trial is in full swing. While the decision itself will have wide-reaching implications for the games industry, documents and testimony from the trial have revealed a treasure trove of information on the inner workings of some of the biggest companies in the industry.