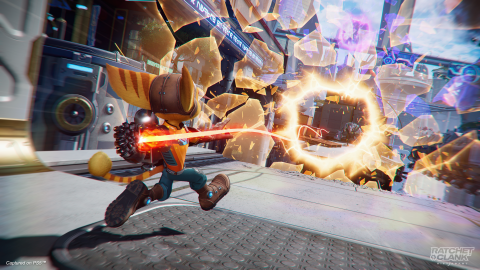 Ratchet & Clank Rift Apart
Insomniac Games, through its official Twitter account, has revealed to players many of the trophies that will be present in Ratchet &
Clank Rift Apart
, the next
PS5
exclusive coming on June 11th. As indicated, we will have 45 trophies, to which Platinum is added. 15 trophies are hidden, probably because they are related to the plot.
Through a series of Tweets, of which you can see the first below, Insomniac Games has indicated not only the trophies, but has also published a series of Gifs that show very short fragments of the game. Platinum is called, in English, "Masters of the Multiverse".
Trophies include very classic challenges such as purchasing all weapons and upgrading them, obtaining all collectibles (Golden Bolts and puppet bears), combat challenges, obtaining of equipment, fully of in-game actions such as "melee five frozen enemies". There is also no shortage of trophies related to the elimination of specific enemies in the course of the adventure of Ratchet & Clank Rift Apart.
Overall, this is a very classic trophy list that does not seem to require particularly complex actions from the point of purely action view. Probably the trophies that will take the longest are those related to collectibles.
We already know, in any case, that Ratchet & Clank Rift Apart Platinum is easy to get, just one game.
Source Did you notice any errors?