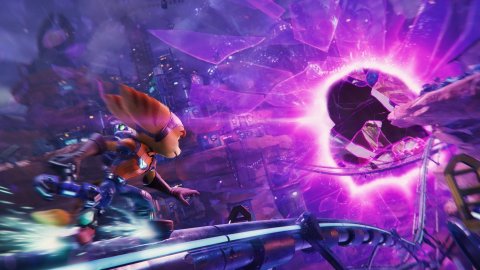 Ratchet & Clank Rift Apart
Insomniac Games has published, via its blog, a new post in which it explains all the details on the difficulty levels and accessibility options of Ratchet &
Clank Rift Apart
, the exclusive
PS5
arriving on June 11, 2021.
Inside the blog post dedicated to Ratchet & Clank Rift Apart we can find many details, some of which are quite classic. For example, we will be able to change options such as HDR, brightness, the direction of movement of the camera on the ground or in flight phases. However, there will be many interesting options not typical on consoles.
There will be for example different types of firing (normal, single press, toggle) and automatic aiming modes. You can activate a protection that prevents falling from the edges. It will also be possible to activate different graphic settings for those with vision problems, activating colors for the character controlled by the player, for the dangers and for the interactable elements. Ratchet & Clank Rift Apart will also allow you to "activate or deactivate" the Depth of Field, ie activate or deactivate a blur effect for objects in the distance.
Ratchet & Clank Rift Apart will offer various accessibility options One of the more interesting changes is linked to the possibility of activating quick commands (up to four) for actions such as Photo mode, quick weapon selection, automatic attack combos (such as three shots in a row, attack and crash to the ground, weapon launch. ..), but also a feature that slows down the game to 70%, 50% or 30%. Ratchet & Clank Rift Apart therefore appears to be an accessible game for every type of player.
Finally, Ratchet & Clank Rift Apart will include four difficulty levels, with the latter being described as "dedicated to those who wish to fight the most brutal enemies ". If the saga is too simple for you, this difficulty might be for you.
We also point out the recent video talks about the planets and exploration in Ratchet & Clank Rift Apart.
Source Did you notice any errors?