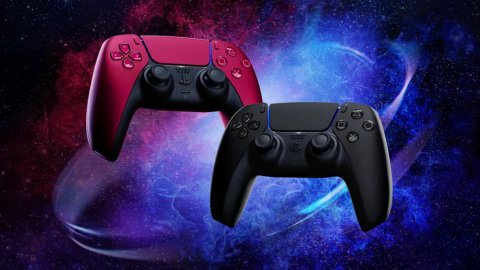 PS5 DualSense
Sony PlayStation
has release
d a new video showing two new colors for the
PS5
controller, the DualSense. The Japanese company showed a Black DualSense and a Red DualSense. Both colors will be available from next month. Here are official footage and images.
The official name of these two
PS5 DualSense
colors is Midnight Black (Black) and Cosmic Red (Red). Midnight Black proposes "two slightly different shades of black with light gray details that represent the space when we observe it at night". The Cosmic Red version, on the other hand, offers a "black and red design
inspired by
the vibrant and unique shades of red typical of the cosmos". You can see them in detail in the images below and in the video at the beginning of the news.
Leo Cardoso and Satoshi Aoyagi of Sony PlayStation have released some details on the two
PlayStation 5
controllers. Here are their words:
"Our goal is to always find designs that surprise and arouse interest in our fans. These new colors are the result of an in-depth selection process. The new controller colors needed to match each other, but also maintain an affinity with the wireless controller. Original DualSense and the PS5 console. For this reason we studied the colors following the theme of the "galaxy": it seemed to us the natural
evolution of
the original design of PS5 and its accessories "- Leo Cardoso
"Midnight Black and Cosmic Red are both characterized by a delicate shade of blue, which results in unique shades of red and black. Also in the colors of the original DualSense wireless controller there is a shade of blue, thanks to which all and three colors match perfectly. In addition, the colors and details of the controller keys have been specially designed to complement the new colors. We hope these new features will make our fans' gaming experience even more enjoyable and fun. - Satoshi Aoyagi
Guerrilla also recently talked about the DualSense PS5 and its use in Horizon Forbidden West.
Have you noticed any errors?
---
Sony reveals new galaxy-inspired PS5 DualSense controllers
If you've managed to score a PlayStation 5 and you've been looking for a DualSense with a different look, Sony has some news that might perk up your ears. The company has announced its first new colorways for the controller, Midnight Black and Cosmic Red, which were inspired by the galaxy.
Midnight Black has two shades of black with some light grey detailing, which Sony designed 'to reflect how we view space through the night sky,' according to a blog post. The Cosmic Red version, which is a dual-tone black and deep red look, was 'inspired by the unique vivid shades of red found throughout the cosmos.' They'll be available at retailers around the world starting next month.
© Sony Interactive Entertainment PlayStation 5 DualSense controllers in Midnight Black and Cosmic Red
Until now, the only DualSense that players have been able to pick up through official channels is one with a black and white color scheme, which matches the PS5 console aesthetic. Modders have been creating their own colorways, while members of the PS5 launch team are said to have received an exclusive white and gold DualSense.