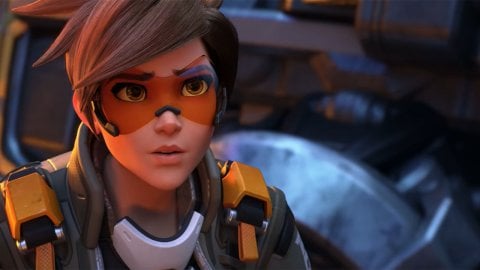 Overwatch 2 will have a beta
Overwatch
2 was the subject of a recent AMA session on Reddit, with some
Blizzard
developers answering various questions asked by the community about the game in development, from which information emerged about a probable beta coming before the release and the possibility that the game supports cross-play and a ping system.
As for the beta, this is not exactly shocking news, as Blizzard games are used to going through a test phase, especially if equipped of a predominant online component as in this case. "Almost certainly yes" was the official response of technical director John Lafleur to the question of whether or not there will be a beta for Overwatch 2 before the release, but still without any more specific details on the timing of the release.
Overwatch 2 will
probably have a beta before the release and perhaps also cross-play and ping system. More interesting and innovative would be the presence of a ping system, an idea that Blizzard seems to like a lot and could therefore materialize in Overwatch 2: " We are definitely considering it, "said director Aaron Keller," in fact we have a prototype already running internally. We don't want to make promises about things that aren't
ready to be
announced so I won't do it even in this case, but it's something. which we are quite excited as a team and on which we are working regularly ".
It seems that a ping system is also foreseen for Overwatch 2: for those who do not know it, yes tta of an immediate and contextual communication system that allows you not to use the voice chat. Basically, it is a sort of signal system through pre-established communications that can be selected from special menus, with which it is possible to send directions to the players without having to speak through a microphone.
It is a system made particularly famous by Apex Legends, which implements it in a very complete and satisfying way for the players, so much so that it is required as a kind of standard at this point. Finally, there also seem to be good prospects for crossplay in Overwatch 2: "We are very excited about the possibilities offered by cross-play and cross-progression, but we have nothing to announce yet," said Lafleur. "In any case, given the additional complexities of cross-progression, it would probably make more sense to deal with cross-play first and then explore progression as a possible system expansion if we choose this path." In short,
there is not
hing to announce but it is clear how Blizzard is considering cross-play for Overwatch 2, which has also become a rather established standard, in the meantime.
For the rest, we refer you to the preview of the Overwatch 2 PvP with all the new features presented, also shown in the gameplay videos released last week.
Source Did you notice any errors?
---
Overwatch 2 beta confirmed, potential cross-play and ping system teased
To celebrate Overwatch's fifth anniversary, the game's developers hosted an AMA on Reddit. They discussed the state of Overwatch, its sequel Overwatch 2, and the development roadmap for the future.
Overwatch's game director and its community manager joined the AMA panel, where fans had a field day asking them about Overwatch 2 and its developmental focus. The following are some of the main takeaways from the thread.
Also read: Is GTA Online's Progen T20 worth it in 2021?
The now completed AMA saw thousands of fans posing their questions to the development team with some interesting outliers from the pool.
When asked about the possibility of a beta for Overwatch 2, technical director John Lafleur said,
'Almost certainly, yes. If I knew when, I couldn't tell you. If I told you, I'd have to kill you. But (game director Aaron Keller) is our resident secret-leaker, so you might give him a try!'
The next topic of discussion was the addition of an Apex Legends-style ping system that seems to have been ported to almost every game in recent times. Developers said that,
'We've definitely considered this, In fact we have a prototype of it running internally right now. We don't make a habit of promising things to players until they are actually announced and I'm not going to break that tradition right now (I'm sure I'll blow it at some other point in this AMA), but it is something that we are excited about as a team and are working through issues currently."
When asked about cross-play and cross-progression, the developers said that they had nothing to share at the moment but touched on their plan if the deliberation became a reality.
'We're pretty excited about the possibilities of cross-play and cross-progression, but we don't have anything to announce, today. However, given the additional complexities of cross-progression, it would probably make most sense to tackle cross-play, first and then explore progression as a potential add-on, if we go this route.'
Overwatch 2 still hasn't received a definite release date, but it has been confirmed that the game will no longer be 6v6 as developers are opting for a more traditional 5v5.
Also read: 5 most effective ways to deal with griefers and annoying players in GTA Online