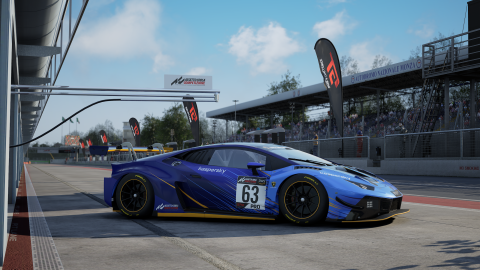 Lamborghini announces the 2nd season of the Assetto Corsa eSport event
Lamborghini
eSports
has announced that The Real Race will return this year with a second season with a new global format that features three trophies in Europe, America and Asia. The best sim drivers will compete again at the wheel of the Lamborghini Huracán GT3 EVO on the Assetto Corsa Competizione platform: the winners will have a driving experience in Italy with Lamborghini and the chance to become the brand's first official eSports driver.
After the first edition of 2020, won by the German Nils Naujoks, from this year Lamborghini adopts a new approach for The Real Race: the drivers will compete both in traditional GPs and in three endurance races that allow them to get points for the continental rankings, behind the wheel of the Lamborghini Huracán GT3 EVO, the car that won the 2
4 Hours of
Daytona three times. The Lamborghini Style Center has designed an exclusive racing livery, customizable in 12 different versions by the participants, and enriched by the logos of the partners, Kaspersky and Assetto Corsa Competizione.
Assetto Corsa Competizione The tournament
will take place
from June to November : Drivers from all over the world will be able to register for the open qualifications, which will be held from Monday to Friday. The top 40 players classified in the open qualifiers will access the qualifications on Saturday; the top 20 will compete in The Real Race on Sunday, competing twice on the same circuit. The ten weekly qualifying rounds will allow participants to score points for their respective continental ranking by determining the three champions.
"Esports are a sector in which we want to play an important role." explains Federico Foschini, Lamborghini Chief Marketing & Sales Officer "The Real Race is a six-month event that allows you to experience emotions comparable to those of a real race and where players get ready to face some of the best sim drivers in the world. proud to organize this competition and to allow the winner to live a real experience that will allow him to immerse himself in the Lamborghini world and have the opportunity to pursue a career in eSports. "
This second edition of The Real Race strengthens Lamborghini's commitment to the world of esports which recently debuted in popular video games such as Rocket League and Asphalt 9: Legends, which allow players to virtually drive models such as the Huracán STO and Essenza SCV12.
Did you notice mistakes?