Intel Core i5-11400H
The well-known leaker @Apisak has identified another benchmark in a public database relating to the latest Intel Core i5-11400H "Tiger Lake" mobile processor. This allowed us to make a comparison with the AMD Ryzen 5 5600H CPU, based on the Zen 3 architecture, defining the superiority of the latter in some types of workload, but, of course, we point out that these are partial results that may also vary depending on the design of the notebooks used.
The Core i5-11400H is one of the first hexa-core CPUs from Intel based on the latest Tiger Lake architecture with the SuperFin node at 10nm and will be a direct replacement of Intel's Core i5 "Comet Lake" chips. The 11400H has a base clock of just 2.4GHz, but compensates with a maximum turbo frequency of 4.6GHz. Configurable TDPs range from 35W to 45W.
Results Benchmark CPU-Z Single-Threaded Multi-Threaded Intel Core i5-11400H 528 3301 AMD Ryzen 5 5600H 547 4228 In the CPU-Z benchmark, the i5-11400H scored 528 points in the single-threaded test and 3,301 points in the multi-threaded one. For comparison, Intel's new 11400H delivers single-threaded performance on par with AMD's best Zen 2 CPUs, such as the Ryzen 7 3800XT. However, it falls short in the multi-threaded test, barely beating a desktop Core i7-6800K and is strangely a bit slower than the Core i5-10500H.
AMD's current competitor at the Core i5 is the Ryzen 5 5600H, which achieved a CPU-Z score of 547 in the single-threaded benchmark and 4,228 in the multi-threaded benchmark. This means that the Ryzen 5 5600H could be around 4% faster than the Core i5-11400H in running single-threaded applications and 28% more capable in multi-threaded applications. Recall that this is one of the first benchmarks on CPU-Z and we do not know the exact specifications of the laptops used for
these tests
, so these results should be taken with a grain of salt.
Intel Core i7-10700K with 3.8GHz base clock, LGA1200 socket and 125W of TDP
is available
on Amazon at a reduced price!
---
New hexa-core Intel Core i5-11400H cannot beat AMD Ryzen 5 5600H in CPU-Z
Intel has recently launched the new 10nm based Tiger Lake-H processors with 45W TDP for new gaming laptops. Although Intel really made some bold claims against AMD during launch, the benchmarks seem to deceive it, as, in one of the most basic benchmark like CPU-Z, the hexa-core Core i5-11400H doesn't perform well.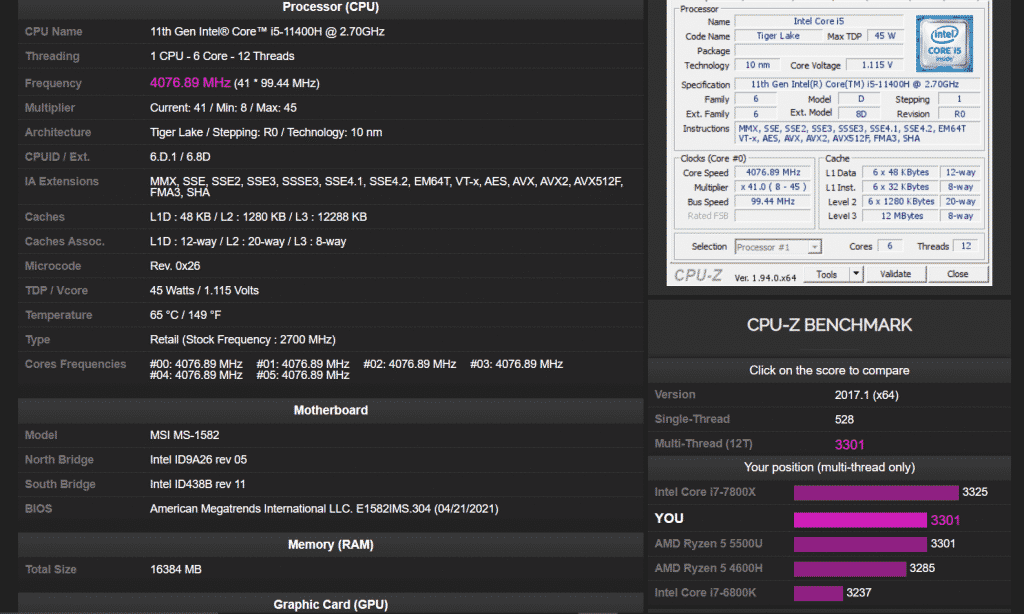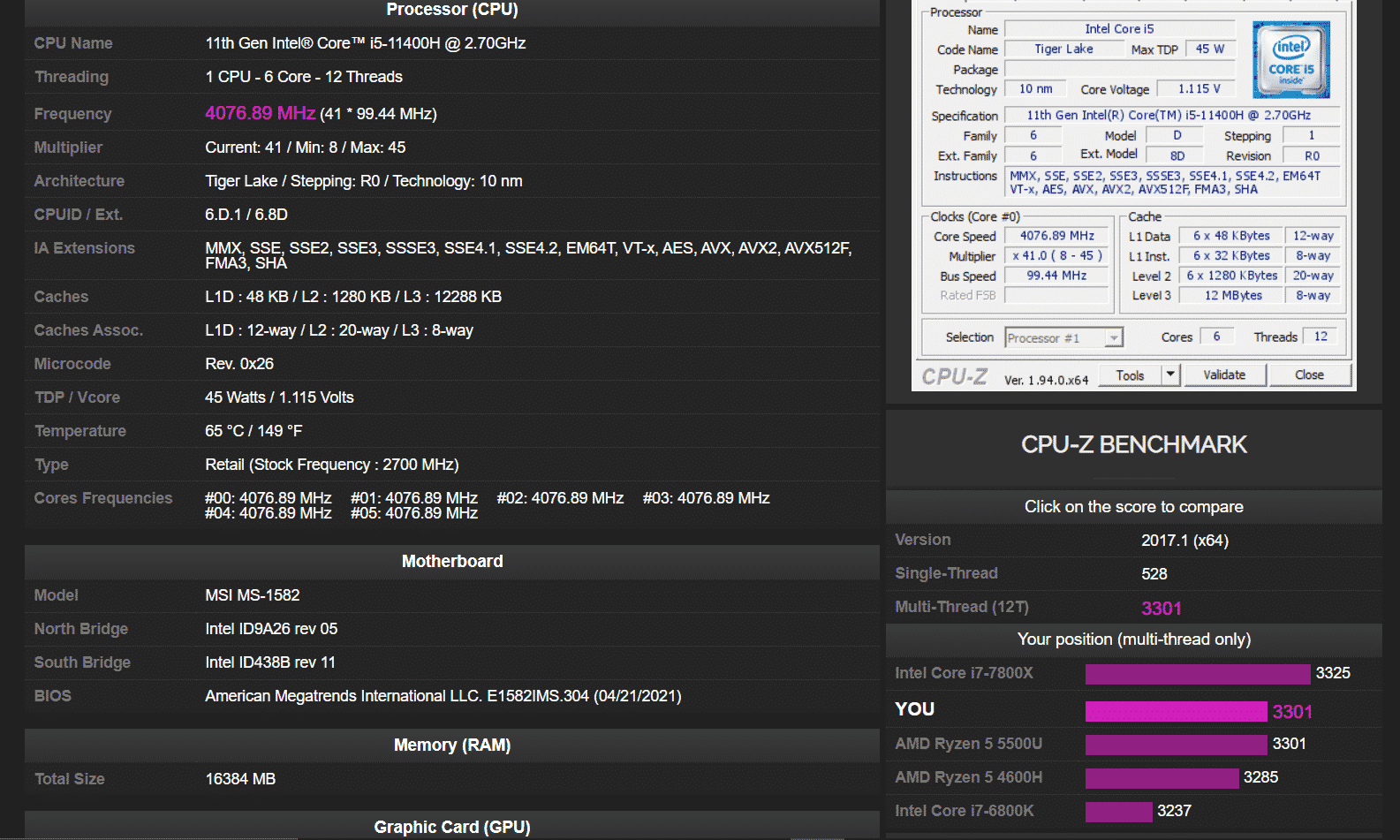 Thanks to @TUM_APISAK, the new Intel Core i5-11400H with 6 cores and 12 threads along with up to 4.50 GHz boost frequency manages to score 528 points in single-core and 3301 points in multi-core benchmarks of CPU-Z.
Compared to the CPU-Z benchmark of Ryzen 5 5600H, the Intel CPU is nowhere near; the AMD CPU scores 547 points in single-core and 4228 points in multi-core benchmarks.
So, even though the Ryzen 5 5600H goes up to only 4.2GHz, it scores better points in CPU-Z and doesn't forget the slight efficiency advantage AMD has over Intel. Also, it's worth noting that both of these gaming processors will end up being used on budget gaming laptops, so by performance metrics, the Ryzen 5 5600H is indeed better.
Buy the Acer Nitro 5 with AMD Ryzen 5 5600H & RTX 3060: https://fas.st/JspGx