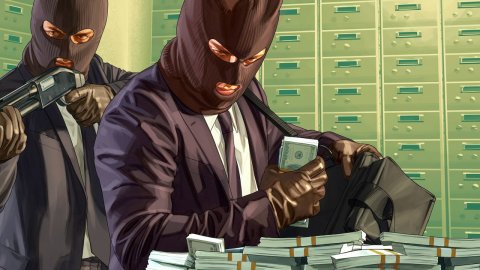 GTA 5 unstoppable
GTA 5 and Red Dead Redemption 2 continue to sell in a stratospheric way even years after the original release, in particular as regards the first which has now exceeded 14
5 million copies
sold in the world, while the western action game surpasses the 37 million copies.
Rockstar Games' bestsellers continue to amaze in Take Two's recent financial results, which show that Grand Theft Auto V continues to perform well on the market, further boosting the figures that were emerged in February and totaling another 5 million after just 5 months at a truly incredible pace for a game that was released 8 years ago.
GTA 5 over 145 million copies sold At this rate, it's not surprising at all the idea that Rockstar Games wants to continue to focus on the game in question and on GTA Online, having announced yesterday the release date of both games on
PS5
and Xbox Series X
| S set for November 11, 2021, with a new next gen and expanded version, with further details about it to be announced later.
All this leads the entire Grand Theft Auto series to have totaled 345 million copies sold in its history through the various chapters released so far on the market, but the sales of the fifth chapter are truly a story apart from the previous excellent successes.
Red Dead Redemption 2 also continues its run, albeit at less incredible levels than GTA 5 , having exceeded 37 million copies sold in Take-Two's financial documents, which brings the total of the western series to around 60 million copies sold in its history across the various platforms.
Source Did you notice mistakes ?
---
Baseball: Unstoppable Ohtani homers in 3rd straight game for Angels
© 共同通信社
Shohei Ohtani homered for the third straight game to bring his season home run total to 14, but the Los Angeles Angels were unable to keep their winning streak alive with a 6-5 loss to the Cleveland Indians on Tuesday.
The Angels, who won their last two games, were down 5-0 in the bottom of the first inning at Angel Stadium when Ohtani hit a one-out solo homer -- a 440-foot shot to center field -- off Cleveland starter Zach Plesac (4-3) to extend his Major League home run lead.
In the fourth, Ohtani reached on a single and came around to score on a Justin Upton three-run homer off Plesac that pulled the Angels to within one run, and Jose Iglesias tied the game at 5-all in the seventh with a leadoff homer, also off Plesac.
But Angels reliever Alex Claudio (0-1), in a lefty-lefty match, surrendered the eventual game-winning homer to Josh Naylor in the eighth.
Ohtani has homered in three straight games for the third time in his career, doing it twice in his rookie season in 2018, in April and September. He finished the night 2-for-3 with an intentional walk to raise his batting average to .271.
At Dodger Stadium in Los Angeles, Yoshitomo Tsutsugo played in his first game since being traded by the Tampa Bay Rays to the Los Angeles Dodgers last weekend. He went 0-for-2 with two walks in the team's 9-1 victory over the Arizona Diamondbacks.
At the Great American Ball Park in Cincinnati, Shogo Akiyama pinch hit in the fifth and struck out swinging in his only at-bat as the Cincinnati Reds squandered an early one-run lead and lost to the San Francisco Giants 4-2.