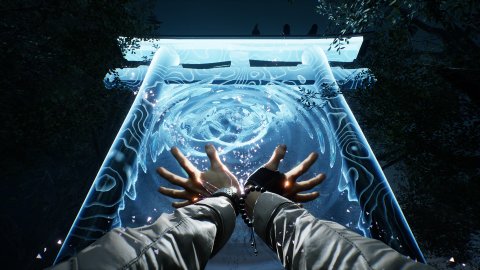 Ghostwire Tokyo on PS5
Ghostwire Tokyo continues to remain silent in that of Tango Gameworks, but in the meantime the developers Tango Gameworks have expressed great enthusiasm for the potential of the DualSense, the
PS5
controller.
The game is a first-person action featuring a contemporary setting with supernatural elements, and is currently an exclusive console timeline
for PS5 and
PS4
, also
coming to PC and
probably to Xbox platforms only at a later time.
Ghostwire Tokyo continues its development, in general silence It is also a special case because, with the acquisition of Zenimax, Tango Gameworks has become part of Microsoft and therefore it is in all respects a first party game of Xbox Games Studios in an exclusive time on PS5 and PS4, because, as reported by Phil Spencer, the agreements made prior to the acquisition will be respected.
We can therefore also witness the strange development situation. Microsoft first party golds enthusiastic about the PS5 controller, as reported by Tango Gameworks on the official
PlayStation
blog.
In Ghostwire Tokyo, the features of DualSense are exploited extensively: haptic feedback allows you to perceive the surrounding environment and its disturbing presences, given the setting with supernatural characteristics. The feedback and noises coming from the speakers allow you to use the sixth sense and perceive dangers and various presences around the player.
These characteristics also emerge in the use of powers and special abilities, allowing you to hear the difference between gusts of wind, water flows and fire launches, with different intensity also depending on the level reached by the various powers.
With the postponement imposed on Deathloop it was thought that even Ghostwire Tokyo could suffer such a decision, which is quite common in this difficult year, but for the moment the game is still scheduled for October 2021.
Source Have you noticed any errors?
---
GhostWire: Tokyo – PS5 DualSense Support for "Sixth Sense" and Elemental Powers Revealed
Tango Gameworks' upcoming action title is leveraging the controller in some interesting ways.
Tango Gameworks' GhostWire: Tokyo is one of the titles featured in a new PlayStation Blog post that discusses how developers are leveraging the PS5's DualSense controller. The developer has already talked about the adaptive triggers and how they factor into combat. However, this time, it revealed some interesting new gameplay mechanics as well.
For instance, there's a "sixth sense" that players can use which allows for "perceiving things normal humans cannot and using that insight to help solve the many mysteries enveloping the city of Tokyo." The haptic feedback in the DualSense further lends to that feeling of attuning to the environment while "otherworldly voices" begin to emit from its in-build speakers. As for combat, ti seems that the protagonist can wield different elemental powers.
These range from "snappy, precise bursts" with Wind to Water's "destructive rush" and Fire's "raw devastation of fire." Each has their own distinct feeling thanks to the adaptive triggers, which also help to really immerse you in ripping out an enemy's core. And as abilities become stronger, there will be more feedback from the DualSense, thus creating "a noticeable sensation of real progress."
GhostWire: Tokyo is out this year for PS5 and PC. Stay tuned for more details at E3 2021 especially with Bethesda confirmed to be attending the event.