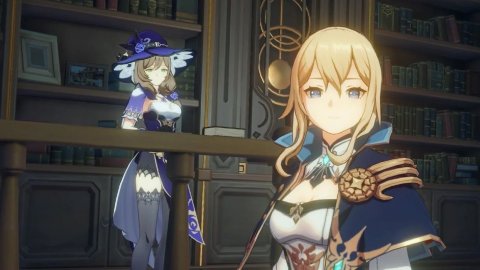 Genshin Impact, update 1.6
Genshin Impact prepares for update 1.6. The release should still be far away but players have the opportunity to find out some details thanks to the leaks. One of the most recent allows us to see the summer costumes of Barbara and Jean.
Inside
Genshin Impact update
1.6
it will be
possible to find for example Jean's costume known as "Sea Breeze Dadelion". As indicated by the tweet, we must not consider it definitive: miHoYo may change some details before the release. For the moment we don't know how this costume will be obtained.
Also in Genshin Impact update 1.6 there should also be room for Barbara's costume called "Summertime Sparkle". Again it is possible that the development team will modify it before the release. This costume can be obtained as a reward for the Echoing Narration event.
According to the rumors, the release date of Update 1.6 is mid-June, so it will take some time before we can get our hands on these costumes and the other news coming to Genshin Impact. In the meantime you can see Digital Foundry analysis highlight frame-rate issues on
PS5
.
Source Did you notice any errors?
---
Genshin Impact 1.6 Leaks: Jean and Barbara Costume Leaked, How to get Skin, Release Date
Genshin Impact is gearing up for a lot of major additions in the coming days. The last update added the housing system, Eula and Yanfei, and fans are eagerly looking forward to the 1.6 Update which is slated to arrive in the next few weeks.
There is still some time until the 1.6 Update is released, but if you are an avid player, you might be well aware of the leaks that precede a major update. The 1.6 Update is no exception to it.
MORE GENSHIN: Genshin Impact Leaks: Ayaka, Yoimiya Banner Release Date, Character Details Leaked
We already know a lot about what it is to come in the 1.6 Update. We know that a new character Kazuha will be coming to the game, along with a new region, which will consist of a series of islands, known as the Summer Islands. We have seen glimpses of what is to come in the update, and now we have got some more information.
Version 1.5 "Beneath the Light of Jadeite" Trailer | Genshin Impact
BridTV
1712
Version 1.5 "Beneath the Light of Jadeite" Trailer | Genshin Impact
https://i.ytimg.com/vi/4Z6P_2Gyv98/hqdefault.jpg
760964
760964
center
26546
Lately, a number of leaks have pointed that we might be getting one of the most anticipated things in the game quite soon. That is, none other than different skins for the characters. Today, we have got a couple of pictures of the upcoming costumes in the game.
There are two costumes that have been leaked, thanks to Project Celestia. The first one is of Barbara, known as the Summertime Sparkle, and the other one is of Jean known as the Sea Breeze Dandelion.
As far as obtaining the skins is concerned, we only know about how players can get the Summertime Sparkle skin. It can be obtained as a reward from the Echoing Narration Event. As far Sea Breeze Dandelion is concerned, we don't know how players can obtain the skin.
These skins will likely be coming in the 1.6 Update, if rumors are to believed. It is slated to release in mid-June, so players have to wait a while before they can try out these new skins.
Have something to tell us about this article?
Md is the Head of Content- India for DualShockers. He is pursuing Computer Science Engineering and is really passionate about gaming and technology. You can find him cracking complex coding problems during the day, and covering the latest happenings in the industry at night.