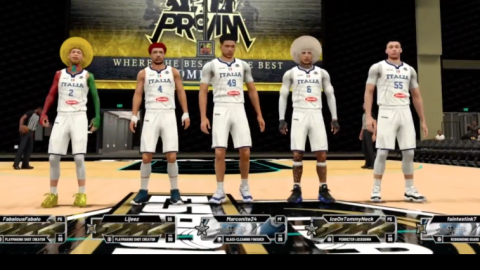 FIBA Esports Open
Starting from 2.30 pm today, the Italian virtual basketball eNazionale, nicely renamed etalbasket, will play the quarterfinals of the FIBA ​​
Esports
Open against Germany. The goal is to gain access to the semi-finals of
the tournament
.
The Azzurri obtained the qualification after beating Belgium (56-47) and losing to Great Britain (47-61). etalbasket against Belgium, led by Artem "FabalousFabalo" Kulyk, who scores 25 points, imposes his game in the last two quarters with a strong and careful defense. Against Great Britain, on the other hand, he fails to limit "HazzatheChinner", who scores thirty points (13/17 and 4/6 from three), and the 5 out game that allows the British insidious and productive entries to the basket. Among the eAzzurri 16 points, 9 rebounds and 2 assists for Andrea "JustFala_2k" Falasca after the 17 points scored against Belgium.
Today, however, there will be a knockout challenge to the best of three games with the eAzzurri who meet Germany who comes from group B, where they only won against Spain (albeit by 20 points 63-43), but lost against very strong France and Luxembourg.
Italy-Germany will be broadcast live on the Italbasket Facebook page with the comment of the former blue player Andrea Pecile and the caster Simone Trimarchi.
Here are the blues:
# 00 Gabriele Pezzoni (1997, AG / C, TrustInPezzo, Qlash Italy) # 02 Artem Kulyk (1998, P, FabalousFabalo, Quintupla Menaccia) # 04 Leonardo Mancini (2001, P, Lijeez, Quintupla Menaccia) # 06 Tommaso Riovanto (1999, AP, IceOnTommyNeck, Quintupla Menaccia) # 11 Filippo Speziale (2002, AP / G, xpipotato, Bayern Ballers Gaming) # 13 Andrea Falasca (1999, C / AG, JustFala_2k, Qlash Italy)
Good luck to the guys.
Have you noticed any errors?
---
Bajans win FIBA Esports Open
Posted on April 27, 2021
Article by
Joshua Lowe (GP)
BARBADOS' basketballers completed a successful venture into the realm of e-sports after dominating rivals Costa Rica in the finals of the North and Central America Conference of the 2021 FIBA Esports Open.
In what was scheduled to be a best-of-three series with Costa Rica to determine the overall winner of the Conference which also included Mexico and Honduras, the Bajans were enjoying a 44-12 lead in the second quarter before an apparent forfeit by their opponents caused them to win by default.
The forfeit did not damper the achievement or celebrations, as none of the Bajan players had participated in a FIBA e-sports tournament or NBA 2K tournament, despite their long associations with the sport of basketball as well as the popular video game.
Barbados' starters included national player and captain Kelan Phillips, Brandon Hope, Stefan Clarke, Rasheed Maynard and Most Valuable Player Joshua Lowe. (NM)
Subscribe now to our eNATION edition for the full story.
For the latest stories and breaking news updates download the Nationnews apps for iOS and Android.