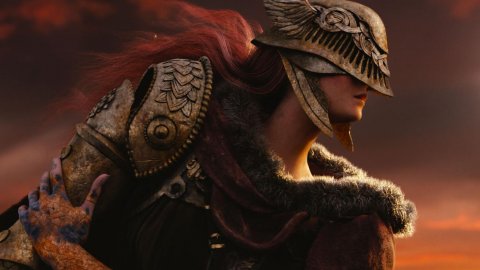 Elden Ring
A new six-second snippet of Elden Ring, the highly anticipated game from From Software and Miyazaki, is circulating online. The leak, which you can see just below, is a short segment of a video through which we can discover a couple of the game's settings. Also, From Software's parent company - Kadokawa Corporation - has given a hint about the game's possible release date.
First of all, let's point out that these six seconds of Elden Ring leaks clearly come from a video thought to be shown only internally, probably the same one that was at the center of last March's leak. For this reason, it is highly likely that this is an incomplete part of the game and not representative of the final quality of the game. We also add that the quality of this gif is not high,
so it is
impossible to give any kind of judgment on what we can see. Obviously, provided that what is shown is really part of Elden Ring, which we cannot be entirely certain of.
The information obtained through the most interesting recent financial report by Kadokawa Corporation. From Software's parent company says it expects to release new games during the current fiscal year, which is by March 31, 2022. Obviously it is not said that Elden Ring is included in this prediction, but it is possible since there is a section of the report dedicated to it.
In Kadokawa's report Elden Ring is presented, explaining that it is an "action role-playing game, which follows the path of the Dark Souls series, which
has sold more than
27 million copies worldwide. world". It is explained that the game is "created in collaboration with fantasy author George RR Martin, who has written masterpieces such as" A Song of Ice and Fire ", upon which" Game of Thrones "is based. Additionally, it is specified that Elden Ring will offer a "dark fantasy setting" and that is "From Software's greatest game in terms of sheer volume".
So it seems that Elden Ring is a truly massive game. Development has been slower than expected. Kadokawa says some of the company's games have been delayed due to restrictions imposed by
COVID
-19. Again, the company doesn't specifically mention Elden Ring, but it's credible that it's included. VGC claims that sources close to From Software have confirmed that Elden Ring has undergone multiple internal referrals for this reason.
Elden Ring: leak and rumor, when is an official announcement? With a possible release by April 2022, is it credible that Elden Ri ng approaches the time of a new (true) announcement.
The last of
ficial appearance of the video game dates back to E3 2019. In support of this hypothesis there are the statements of Jeff Grubb and Jason Schreier, who believe that it should not be missing too much.
Is it possible
that E3 2021 is the moment chosen by From Software to completely reveal the game?
A recent leak also talked about classes, public tests and other details on Elden Ring.
Source Did you notice any errors?
---
New Elden Ring clip leaks as parent company hints at release 'before April 2022'
A new six-second glimpse of From Software's Elden Ring has leaked online, as the developer's parent company hints that the game could release during its current fiscal year.
The latest leaked clip, which originates from the 4Chan forum and has been widely posted on social media, shows off-screen gameplay with the same Bandai Namco confidential watermark which was brandished on the Elden Ring footage which leaked in March.
It's possible that the clip is part of the same leak, which was said to show work-in-progress footage that's more than a year old, and thus is likely not indicative of an impending reveal.
The highly-anticipated Souls spin-off hasn't been seen since its announcement at E3 2019. However, in its latest financial results published on Friday, From's parent company Kadokawa Corporation hinted that it could be released with the next 12 months.
Notice: To display this embed please allow the use of Functional Cookies in Cookie Preferences.
Kadokawa said it expects to release new games during its current fiscal year, which ends on March 31, 2022. It also confirmed that some of its games had been delayed due to the impact of the Covid-19 pandemic.
As VGC first reported in March, we understand that Elden Ring has been delayed several times internally due to disruption caused by the pandemic.
People with knowledge of the game's development told VGC earlier this year that production had been significantly hampered by remote working restrictions, which have been in place for a year in Japan.
One person close to the game's development said that, due to the disruption, they believed it was unlikely Elden Ring would make it out this calendar year.
A slide from Kadokawa's financial results.
Announced at E3 2019, Elden Ring is a fantasy action-RPG described as From Software's largest game to-date.
The game takes place in a world created in collaboration with A Song of Ice and Fire author George R.R. Martin, who was tasked with creating Elden Ring's lore, rather than working on its story.
Director Hidetaka Miyazaki has said Elden Ring represents "an evolution" of the Dark Souls series he created. While Dark Souls spiritual successors Bloodborne and Sekiro: Shadows Die Twice brought new ideas to the table, Miyazaki said From Software's upcoming game goes much further.
In March, GamesBeat reporter Jeff Grubb said he'd heard the title was being planned for an unveiling soon. Bloomberg's Jason Schreier echoed the comments, claiming there was "strong evidence" the game would be shown "relatively soon".
]]>