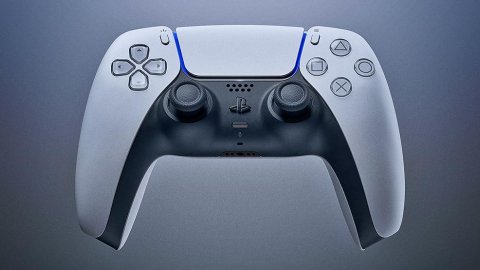 DualSense
The DualSense controller in a few months has already managed to conquer more or less everyone. The combination of old and new technologies, in fact, has meant that the controller is perfect for playing all the products of the past, but that it is already ready for the future. This is also why
Sony
and Apple have worked to make the official
PS5
controller also compatible with iPhone, iPad, Apple TV and Mac. A collaboration so profitable that the Cupertino company has decided to sell the DualSense controller directly from Apple.com.
For the moment this possibility is valid only on Apple's US store, but it is still interesting how an "official" product of another brand has been included in the Apple store. Just to understand, you cannot buy the
Xbox Series X
| S wireless controllers although they are also compatible with Apple products.
The PS5 DualSense controller is sold both as the perfect controller for playing all video games available on iOS, Mac and Apple TV, but also to be used with the PS Remote Play app. To obtain compatibility with DualSense (and the Xbox Series X | S controller) Apple devices must be updated to iOS 14.5, iPadOS 14.5, tvOS 14.5 and macOS 11.3.
Source Have you noticed any errors?
---
Apple starts selling PlayStation DualSense controller
After adding iOS support for Sony's PlayStation 5 DualSense controller in April, Apple this week began to sell the accessory directly through its online storefront.
Apple introduced expanded game controller support to its various platforms with the release of iOS 14.5, tvOS 14.5 and macOS 11.3 last month, enabling compatibility with both Sony's PS5 DualSense and Xbox Series X accessories.
In addition to native iOS, tvOS and macOS games, the DualSense can be used to play games streamed from PS4 and PS5 via PS Remote Play. The feature requires a standalone app and PlayStation Network account.
With support now baked in to its operating systems, Apple added the DualSense to its online Apple Store stock this week, selling the controller for $69.95. Apple Store pickup is currently unavailable and orders placed today arrive by May 26 with free shipping.
Apple notes users can take the wireless DualSense on the go for portable gaming thanks to a built-in battery. Charging requires a USB Battery Charging 1.2-compatible wall charger or standard USB 2.0 or 3.0 compatible port found on a PS5 console, Mac, or PC.
Gamers can also shop at Amazon to score a slightly cheaper $67.74 white DualSense. The recently announced black version is available for $69.95, while the red colorway is listed but currently unavailable.