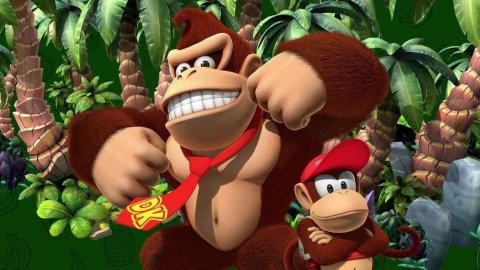 Donkey Kong
Donkey Kong may have a new 2D game in development
for Nintendo Switch
by Nintendo EPD, which is one of the main internal studios of the company, recently responsible for Super Mario Odyssey, this according to several rumors that are emerging recently. >
Among the many recurrences of this period, in fact, there is also that of Donkey Kong, who is the most "ancient" character of Nintendo and this year celebrates 40 years of activity. A prestigious milestone that deserves to be celebrated in a way: well, the "way" in question could be a new video game focused on the most famous primate of video games.
Donkey Kong turns 40 and could have a
new game in
arrival from EPD Tokyo A new Donkey Kong would therefore be
in development and
it would be a really large project, considering that it should be entrusted to Nintendo EPD, or one of the central teams of the company, which also took care
of Super Mario
Odyssey. There is obviously no official information about it, but various insider reports, presumed or not.
Recently it was LonelyGoomba to bring out the question, but this also follows what was reported by another insider who published in news then occurred, namely Zippo: "It's its 40th anniversary and although I'm not sure how
Nintendo wants to
celebrate the occasion, there is a new 2D Donkey Kong game developed by EPD Tokyo", wrote the "leaker".
This means that Retro Studios has nothing to do with the new game, despite having dealt with great success in the last chapters of the series, with Donkey Kong Country Returns and Donkey Kong Country: Tropical Freeze . The American team is in fact engaged in
Metroid Prime 4
and evidently has no way of developing anything else.
"Retro is obviously busy with other things, so Nintendo has taken Donkey Kong back to the historical teams," added Zippo, "You don't expect it to be part of the Country series, because EPD Tokyo has no interest in develop sequels to series they haven't created. Diddy, Cranky and the Kremlings are expected to return somehow, however,
it looks like
the game is slated for release by the end of 2021. An announcement at E3 looks very likely. "
It is therefore possible that the new Donkey Kong could be presented during E3 2021, an event at which Nintendo
will be present
in force and, probably, with very interesting news.
Source Have you noticed any errors?
---
New Donkey Kong Game Being Made by Super Mario Odyssey Team, E3 Announcement "Very Likely" – Rumour
Apparently it won't be a "Country" title, and will be out later this year.
It's been over seven years since we last got a new Donkey Kong game, and fans of Nintendo's iconic series have been getting antsy in the absence of announcements of a new one, especially given how good the last couple of them were. Of course, with Retro Studios being busy with Metroid Prime 4, there's the question of who would even handle a new Donkey Kong game- it seems all of those questions are going to be answered soon, if new rumours are to be believed.
Known Nintendo insider Zippo recently published a blog update, in which they claimed that a new Donkey Kong game is being developed by the Super Mario Odyssey team at Nintendo EPD. Apparently, the development team is "not interested in making a sequel to games they didn't make", so it's unlikely that this new game will come with the "Country" moniker. Zippo says that the game is likely launching before the end of the year, and that as such, a reveal at E3 next month is looking "very likely."
Meanwhile, YouTuber LonelyGoomba also recently published a tweet, saying that a new 3D Donkey Kong game is being developed by the Mario Odyssey team. In an article, Nintendo Life says that their own independent (and very reliable) source has told them the same thing, only that the game will be 2D, not 3D.
Even with similar information coming from multiple sources, it's best to remember that this is unverified info for now, so treat it as such. Either way, with a supposed E3 reveal, we'll know one way or another soon enough.