Windows 10 21H2
A few months ago we reported some advances relating to the 21H1 update of
Windows
10 which, apparently, will constitute a minor update of the functionality of the popular operating system from
Microsoft
, but will still present some news, such as support for the new DNS over technology. HTTPS, a completely revamped new task manager and better GPU management. More important changes are expected for the next release, Windows 10 21H2, for which we will have to wait a long time. Recently, Bleeping Computer colleagues published a summary article with the most interesting news, which include substantial changes to the Start menu, the Taskbar, the notification center, the File Explorer and more.
Credit: Bleeping Computer The first concerns the implementation of a new option in the system shutdown / restart settings submenu in the Start menu to allow you to reopen active applications after reboot. In addition, Microsoft
is working on
the integration of news boxes that update in real time in the Taskbar, through the "News and interests" feature. Further changes concern the display options, with the introduction of a feature that allows you to change the contrast according to the content shown to save battery. Obviously, in this case, the users who will be able to benefit are only those who use laptops.
The File Explorer will be improved to offer a more "touch-friendly" interface, using a more effective spacing method in order to give users the ability to select options and elements more precisely. This will also provide better consistency with modern XAML code used in Universal Windows Platform (UWP) applications. New options also for webcams, which
can now be
freely added / removed and store the default settings (such as brightness and contrast) individually for each of them. Finally, new animations will be introduced when windows are opened or minimized.
Credit: Bleeping Computer These features are already testable by members of the Windows Insider program. If you are interested, you can sign up and find all the information on the subject directly on the official website.
Do you need a Windows 10 Pro license for your brand new gaming PC? On Amazon it is available for a few euros, do not miss it.
---
Windows 10 21H2 kills off Windows Timeline cross-device support
Microsoft is about to make the Windows Timeline feature less useful in the next version of Windows 10, according to new changes spotted in the preview builds.
In preview builds, Microsoft has turned off sync capability for Windows Timeline if you use a Microsoft account, which indicates that the Timeline feature we know will be dead by the time the next major Windows update, thought to be called "Sun Valley" launches.
This change is a disappointment to anyone who had hoped that Windows Timeline could bring desktops and mobile devices closer, and possibly even reduce the need for syncing via other apps.
Microsoft has now removed the option to upload new activity in Timeline when your device is using a Microsoft account (MSA). You can still access the Timeline interface via Task View and recent apps will be listed, but the content won't be synced across your Windows device or Android (via Microsoft Launcher).
For those unaware, Windows Timeline was introduced with Windows 10 April 2018 Update to show a visual timeline of the desktop. Timeline lets you keep track of your desktop activities, which could be your browsing activity in Microsoft Edge, a document that you opened in Word or PowerPoint presentation.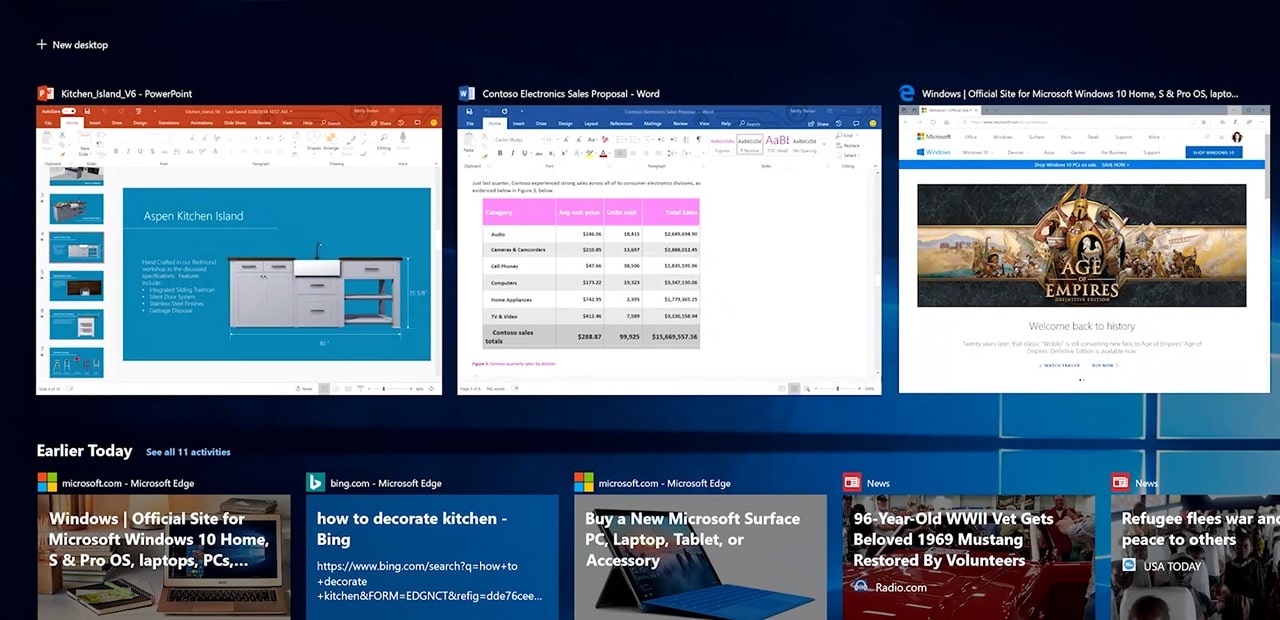 With Timeline, users can jump right back into what they were doing on another device for one month – and that included Android too, until late last year.
However, it seems like not enough people were using the Timeline to justify its inclusion in Windows 10 or Microsoft Launcher, and it's being downgraded in version 21H2.
Microsoft has already removed the Timeline feature from Microsoft Launcher for Android and those who were a fan of it probably knew this was going to happen on Windows as well.
One of the dreams that many of us have had is the idea of continuing desktop activity on the phone or vice versa. Through the years, third-party apps have attempted it and Timeline offering from the Redmond giant brought an interesting approach.
The timeline was announced as an extension of Windows 10's Task View and it was a part of Microsoft's "pick up where you left off" project, which is now being developed via the Your Phone app.
Windows Timeline sync support was quite handy for people who often have multiple Windows devices and want to quickly and easily switch between them.
Despite the clear potential of Timeline on Windows and other devices, especially for developers, Microsoft is downgrading the feature.