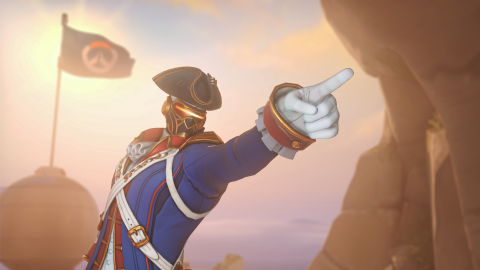 Overwatch
While waiting for new information on
Overwatch
2,
Blizzard
has announced the return of the Overwatch Archives. This is a seasonal event based on Weekly Challenges and new missions. The event is already available on PC,
Xbox
, PlayStation
and Nintendo Switch
. From 6 to 27 April 2021, by connecting to the game, you will be able to obtain new cosmetic items with which to enrich your collection.
Weekly Challenges
The Weekly Challenges are back, but there has been a little change on
how to get
rewards!
New Reward System Instead of winning 9 games, you will need to earn stars by playing. Players don't have to complete the mission to get stars The most difficult missions provide more stars Get 10/20/30 stars in the missions of the Archives event to unlock cosmetic items Week 1 Earn double stars in Uprising Missions Fiery Cores - Enemies drop lava upon death Fragile Power - Players have 50% less health and increased damage * NEW * Impenetrable Barriers - Enemy barriers are invulnerable Get 10 stars to unlock an icon and 20 to unlock a spray Get 30 stars to unlock the epic model Lúcio Corredor Week 2 Get double stars in Retaliation missions Surgical Assault - Only critical hits deal damage Melee - Enemies can only be damaged if there is a player nearby * NEW * Mutual Support - Damaging one enemy heals other enemies us Get 10 stars to unlock an icon and 20 to unlock a spray Get 30 stars to unlock the epic model Zenyatta Sub Week 3 Get double stars in the Imminent Storm Blood Moon missions - No support hero, heals are reduced, there Heals itself by dealing damage Rush Storm - Some heroes are raging and killing them spreads fury * NEW * Damage Storm - Enemies damage nearby players Get 10 stars to unlock an icon and 20 to unlock a spray Get 30 stars to unlock the model epic Mercy Camouflage
NEW COSMETIC ITEMS
5 legendary Tracer Cavalry models
Widowmaker Mousquetaire
Soldier-1776
Zarya Polyanitsa
Genji Bushi
3 Epic Models Icons and Sprays
+6 Have you noticed any errors?
---
Overwatch Archives event is live, introduces new epic skins
© Provided by Win.gg Archives Overwatch
Overwatch's Archives event is back and it's bringing an abundance of new skins. 
The Archives event will run from April 6 to April 27. Throughout this time, Overwatch players will have the chance to collect eight new skins and cosmetics. While the skins have received positive feedback from fans, players are still frustrated with the lack of other new content in the event. In the past, players enjoyed PvE Archives missions that gave insight into Overwatch's extensive lore. But because of Overwatch 2's ongoing development, players will only have past missions to play through once again. 
How to get
Overwatch Archives challenge stars
Each Overwatch event features three weekly challenges. Each of these challenges rewards players with an Epic skin when they get nine Overwatch wins. This year is getting a new element. There is now a star reward system, where players can earn in-game stars when they participate in Archives missions. 
Players don't have to complete or beat the mission to earn stars. Instead, it's all about participation. Players who take on tougher missions or play on expert difficulty will be rewarded with additional bonus stars.
If players earn 10 stars, they can unlock a player icon. With 20 stars, they can unlock an exclusive spray. 30 stars will allow players to unlock each week's Epic skin. 
Archives: Week One
© Provided by Win.gg Corredor Lucio Overwatch Archives
During the first week of Archives, Uprising will be the highlighted mission. This means players will be rewarded with double credit if they take on this mission. There will also be challenges like 'Molten Core,' where enemies drop lava upon their death. This increases the difficulty, but also ups the rewards. Earning 30 stars in the first week will unlock Corredor Lucio. 
Archives: Week Two
© Provided by Win.gg Subaquatic Zenyatta overwatch Archives
This week's mission worth double the stars is Retribution. This week's challenge is 'Sympathy Pains,' which ups the difficulty by healing enemies when a nearby enemy is damaged. Players who get 30 stars the second week of Archives will unlock Subaquatic Zenyatta. 
Archives: Week Three
© Provided by Win.gg Camo Mercy Overwatch Archives
Storm Rising will be worth double the stars in the third week. The challenge will be 'Thunderstorm,' which gives enemies electric power that damages nearby players. Players who get 30 stars this final week will unlock Camouflage Mercy.