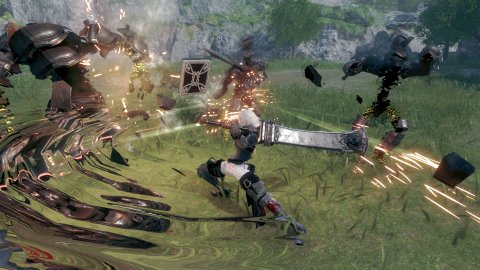 Nier Replicant Ver. 1.22474487139
Nier Replicant Ver
. 1.22474487139 is getting closer and closer. Next week we will finally be able to get our hands on this new version of Yoko Taro's cult game. Now, we also have the opportunity to see a new Japanese trailer which, albeit short, shows scenes in CGI unbridled action.
Nier Replicant Ver. 1.22474487139 is a new version of the game, remastered on a graphic level and with a new combat system. It's not a remake, then, but it's not a simple port with some technical improvements either. Furthermore, for us Westerners,
it will be
an opportunity to play a different version than the original: the original Nier published in the West, in fact, included a different character.
Nier Replicant Nier (also known as Nier Gestalt) proposed the adventures of a grown man, who had to save his daughter. The oriental version, on the other hand, proposes a boy, who where to save his younger sister. Nier Replicant Ver. 1.22474487139 is based on the latter version. At the same time, we know that the game will contain something about the Gestalt protagonist
and cut content
.
Finally, we would like to point out that the remake improvements in a new video with gameplay.
Have you noticed any errors?
---
Nier Replicant Video Shows Off Big Combat Improvements
Nier Replicant releases in less than a week for PS4, Xbox One, and PC, and Square Enix and Sony have released a new video to show off the game's upgraded combat and signature bosses. If you've played the original 2010 game, you should notice the improvements almost immediately.
The video, which is from within the first few hours of Nier Replicant in case you're wary of spoilers, shows how the combat has evolved since the original version released. It's more fluid this time around, bringing it more in line with the combat from Nier: Automata. There's a countering system, too, letting you deliver a powerful blow to enemies after parrying their attacks perfectly.
You can mix heavy and light attacks just like you did in Automata, and if you remember the pod characters' ranged attacks from that game, then Grimoire Weiss' abilities will feel right at home. He's got a few other tricks up his sleeve, too, if you want to stay up close to your targets.
Because of its story focus, which can appeal to those who don't normally play games, Nier Replicant includes an auto-battle feature, as well, which will let you zip through encounters. It's also handy, as Square Enix points out, for making subsequent runs quicker, as you'll be 'replaying' the game as the whole story unfolds. You'll also probably notice that the 'dad' protagonist is nowhere to be seen, as the remake is based on a version of the game that hadn't come to North America before.
As you can see in the video above, you need to make use of a variety of abilities in order to beat the game's dangerous bosses. This includes properly timed parries, mixing up melee and magical attacks via Grimoire Weiss, as well as delivering finishing blows when an enemy is stunned. It's backed by a revamped soundtrack that sets the stage for every battle, and even the dialogue was re-recorded for the enhanced remaster.
Nier Replicant ver.1.22474487139.. releases on April 23. Those who preorder the game get a digital mini soundtrack, and all PS4 versions include a dynamic theme and avatar set.
GameSpot may get a commission from retail offers.