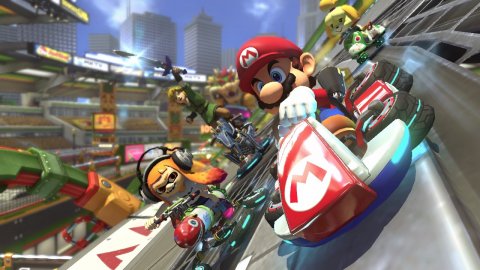 The most recent installment in
Nintendo
's karting series, Mario Kart 8, surpassed sales of Mario Kart Wii in the US and thus became the best-selling driving game in history in the US. The information comes from NPD Group and more precisely from the analyst Mat Piscatella. Furthermore, according to what IGN USA added, this figure is calculated by combining the sales of the original Wii U version of the game with the sales of the Switch version, Mario Kart 8 Deluxe.
We are also told that Mario Kart 8 Deluxe continues to be successful: the game finished sixth in the ranking of best-selling games of March 2021 in the US. Nintendo's most recent official data (cataloged as of December 31, 2021), informs us that Mario Kart 8 Deluxe shipped 33.41 million units worldwide, while the original Wii U game sold 8.45 million copies as of 20 September 2020.
Mario Kart 8 Deluxe Adding the two values ​​together, worldwide we have at least 41.86 million copies of Mario Kart 8 sold, or more than the 37.38 million units of Mario Kart Wii. Worldwide, in any case, Mario Kart Wii is even more sold than the single Mario Kart 8 Deluxe: the success of
Nintendo Switch
, however, could soon allow the most recent chapter of the series to become number one in the world. br>
Finally, we would like to point out that Nintendo denounces Bowser for hacking and modifications to Nintendo Switch.
Source Have you noticed any errors?