eFootball.Pro IQONIQ: Rome vs. Manchester United and Juventus vs. Celtic Glasgow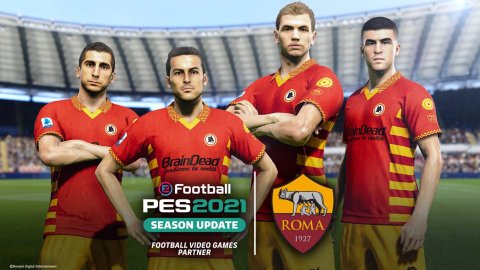 eFootball.Pro IQONIQ
Rome vs. Manchester United and Juventus vs. Celtic Glasgow, two of the most exciting matches of the sixth day of the
esports
championship e
Football
.Pro IQONIQ. This is the official esports championship of PES 2021 which involves some of the main teams at European level.
All matches will be broadcast in live streaming starting from 13:00 on Saturday 27 March on the official YouTube channel of the game or on the Pro Evolution Soccer Facebook page.
Juventus and Roma will face Celtic Glasgow and Manchester United respectively, here is the complete program:
Roma vs. Manchester United - 1.15 pm Monaco vs. Arsenal - 14.10 Galatasaray vs. Bayern Munich - 15:05 Juventus vs. Celtic Glasgow - 16:00 Barcelona vs. Schalke 04 - 4:55 pm
The sixth day could already prove decisive for qualifying for the next stage of the tournament. Arsenal are at the top of the table at the moment, however the competition remains open with the possibility for all clubs to obtain a place for qualifying for the knockout stage.
The position of the Italians in the round of a week reversed. Juventus, in fact, are now at the top of the standings with 16 points, while Roma have slipped out of the Playoff area with 13 points. Fortunately for the Giallorossi the first useful position is only one point away and is occupied by Saturday's opponents: Manchester United.
It will be
enough to do well against the red devils to fix the ranking.
The ranking of eFootball.Pro IQONIQ.
---
eFootball.Pro IQONIQ Tournament Matchday #5 Schedule
by Rainier on March 11, 2021 @ 9:09 a.m. PST
As the eFootball PES franchise celebrates its 25th anniversary since its debut in 1995 and over 100 million copies sold, Konami invites football fans all over the world to join them once again as they head out onto the pitch for a new action-packed season of football and prepare for the future.
Konami announced the fixtures and streaming details for Matchday 5 of the eFootball.Pro IQONIQ tournament, scheduled for this Saturday 13th March, 13:00 CET.
Headlined by the featured match, FC Barcelona vs. Juventus, the full fixtures are as follows:
FC Barcelona vs. Juventus – KICK-OFF 13:15 CET
FC Bayern München vs. Arsenal – KICK-OFF 14:10 CET
Manchester United FC vs. AS Monaco – KICK-OFF 15:05 CET
FC Schalke 04 vs. Celtic FC – KICK-OFF 16:00 CET
AS Roma vs. Galatasaray SK – KICK-OFF 16:55 CET
The full Matchday will be streamed live from 12:00 GMT / 13:00 CET on the YouTube or Facebook channels:
Matchday 5 will begin to show which clubs are likely to qualify for the Knockout Stage, and which will fall below the necessary ranks in the league table. All eyes remain on FC Barcelona as they continue to dominate the league, with THE PALMA leading in goals and ALEX GRD with assists.
Detailed analysis of the teams and the upcoming Matchday 5 fixtures can be read here – "eFootball.Pro IQONIQ moves into second half of Regular Season"
The full list of participating clubs within the eFootball.Pro IQONIQ 2020-21 season is as follows:
FC Barcelona
Manchester United FC
FC Bayern München
Juventus
Arsenal FC
AS Roma
Celtic FC
FC Schalke 04
Galatasaray SK
AS Monaco
With over 15 million total views on YouTube during the 2019/20 season, eFootball.Pro IQONIQ kicked off on December 12th with professional esports players representing some of the world's biggest football clubs.
eFootball.Pro IQONIQ Matchdays during the regular 2020/21 season are played online in 3v3 CO-OP matches on eFootball PES 2021 SEASON UPDATE. "MVP" and "Best Goal" awards are given out to individual players following each Matchday, with additional prize money awarded to the clubs based on their final ranking at the end of the season.
Full matches and highlights from previous Matchdays can be found on the eFootball PES YouTube channel.
Key Features:
SEASON UPDATE – PES 2021 is an updated version of last year's title, eFootball PES 2020, providing the latest player data and club rosters. Due to the delayed season endings for many leagues, the latest data for certain licensed leagues and teams will be available via a day one patch (internet connection required).
EXCLUSIVE UEFA EURO 2020 CONTENT – Ahead of the real-life tournament in 2021, the official UEFA EURO 2020™ content will be included at launch in PES 2021. Featuring the offline UEFA EURO 2020™ Tournament Mode, all 55 UEFA national teams, Wembley Stadium and more, this is the best way to simulate the tournament before and after its summer debut.
ICONIC MOMENT SERIES – Relive and recreate memorable moments from the careers of current and former football superstars with this new myClub series.
Standard And Club Editions
STANDARD EDITION – With a unique cover looking back at the history of one of the greatest footballers of all time, Lionel Messi, the Standard Edition of PES 2021 will be available in physical and digital retail stores at SRP $29.99.
PARTNER CLUB EDITIONS – For the first time, fans will be able to purchase special Club Editions of PES 2021 through digital platforms exclusively. Available for FC Barcelona, Juventus, Manchester United, FC Bayern and Arsenal FC, the all-new Club Editions will include unique club-specific content such as myClub squads, Iconic Moment Series players, exclusive kits, branded menus and more. The Club Editions will be available at SRP $34.99.
LOYALTY DISCOUNT – To recognize our most dedicated players, a 20% discount will be available when you pre-order a Club Edition of PES 2021 through eFootball PES 2020 (including LITE).
VETERAN'S BONUS – In addition, for those who played myClub in eFootball PES 2020, there will be a Veteran's Bonus available with various rewards depending on the milestones achieved in-game. Reward and Milestone details will be available on the official website.
eFootball PES 2021 Season Update is coming to PS4, Xbox One and PC (Steam) on September 15, 2020 (digital download and retail) for €29.99 / £24.99, with pre-orders open from today.
More articles about eFootball PES 2021