Century Age of Ashes, the dragons take off in the gameplay trailer
The main details on the Early Access of Century: Age of Ashes await the aspiring knights in the new gameplay trailer released by the development team.
With the launch of the free to play expected exclusively on PC during the month of April 2021,
the authors of
Playwing Bordeaux have decided to share with the public a new movie dedicated to the dragons - or rather, liveworms - who will populate the title as absolute protagonists. Century: Age of Ashes proposes an exclusively multiplayer game formula, devoted to the confrontation between teams of knights on the back of legendary creatures. Between chases and fireballs, the free independent production will debut on Steam in Early Access with a first review of content, destined to expand later through post-launch support.
To begin, players will
be able to
sail the skies in three different maps, taking advantage of the gameplay variations offered by as many game classes. The Phantom, Marauder and Windguard warriors are in fact characterized by unique abilities and talents, which make them respectively more suitable for defense, attack and support strategies. To offer an overview of the contents that will distinguish the Early Access of Century: Age of Ashes, the French software house has published a new gameplay trailer, which you can view directly at the opening of this news.
We remind you that the second Closed Beta of the game has started at the same time, while the precise release date has not yet been announced. Waiting for the information, on the pages of Everyeye you will find our preview of Century: Age of Ashes.
---
Century: Age of Ashes gameplay trailer
PC
Second closed beta test begins on March 12.
Sal RomanoMar 9, 2021 at 12:51 PM EST0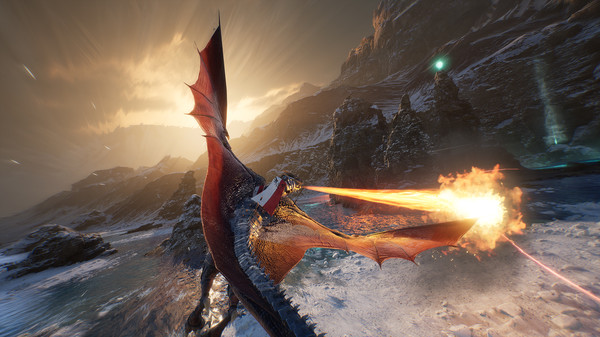 Playwing has released a gameplay trailer for free-to-play multiplayer dragon battle game Century: Age of Ashes ahead of its second closed beta test.
The second closed beta test will run from March 12 to 21 and feature a host of improvements over the first closed beta test. Users can request access via Steam.
Here is an overview of the game, via its Steam page:
Century: Age of Ashes, the multiplayer dragon battle game is now available for free! Customize your dragon, dive into the arena and compete to become a legendary Dragoneer. Burn your enemies and rule the skies!
Intense Arena Battles
Compete in intense online games and discover the fast-paced gameplay of Century : Age of Ashes! Dive into the arena alone or with friends and fight for your survival! Three varied game modes ranging from 3v3 to 6v6v6 await you: Carnage, Survival and Raid.
Carnage: A six-versus-six killing spree with special power ups appearing in the arena to unleash hell on your opponents. It's Team Deathmatch, Dragon riders style!
Survival: A Last Team Standing mode where up to 18 players divide into three teams (six-versus-six-versus-six). Respawn is limited and can only be done through ally rescue!
Raid: A unique mode in which two teams clash over possession of the flag. Gain points by flying through special gates around the arena while holding the flag!
Choose Your Class
Experience different play styles with three unique classes, each with their own abilities! Shield and disorient as the Windguard, track and destroy as the Marauder, or stealth and trap as the Phantom. How will you choose your path to victory? Additional classes are planned throughout development.
Full Customization
Your dragon, your style! Century: Age of Ashes offers carefully designed cosmetic items to stand out in the arena. Gain experience as you play and unlock awesome skins to customize your dragon and its rider! Don't worry, these items are purely cosmetic and offer no advantage in battle.
Free-to-Play
Century: Age of Ashes is completely free-to-play. In order to keep the experience fair and equitable, in-game purchases are purely cosmetic. Battles are won by skill and teamwork alone.
Century: Age of Ashes is planned for an Early Access release on PC via Steam in April. It will be free-to-play both in Early Access and at full launch, with cosmetics that can be unlocked through play or via purchase.
Watch the trailer below.
Use the coupon code 'GEMATSU' for 5% off.
comment policy
Comments are welcome and encouraged on Gematsu. However, we ask that you follow a simple set of guidelines:
Read the full article before commenting.
Stay on topic.
No drive-by comments, including trolling, baiting, or shit-posting.
Know when not to comment. If you do not care about a topic, you do not need to comment.
No offensive comments. This includes abusive, threatening, pornographic, misleading, or libelous content / language, as well as general harassment and individual attacks.
No port-begging.
No console wars.
Use spoiler tags when posting spoiler or NSFW (non-nude-only) content. For example: <spoiler>Woe is Leomon.</spoiler> State the subject of the content outside of the spoiler tags.
Be respectful towards other commenters. You do not have to agree with each other, but debate politely. If you find that a commenter is not following this simple etiquette, do not carry on the conversation—simply report it.
Gematsu reserves the right to edit or delete any comments without notice. This comment policy is subject to change at any time.