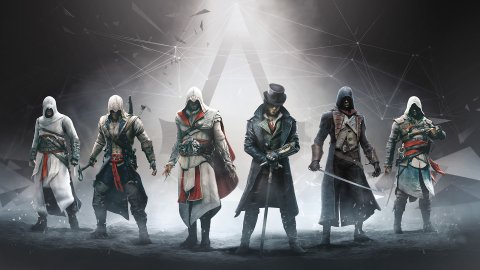 Assassin's Creed
According to insider j0nathan, the new Assassin's Creed is in development at
Ubisoft
Sofia, to whom we owe Assassin's Creed Origins, Rogue, Black Flag and Liberation. j0nathan is a youtuber well known by fans of the Ubisoft series, because in the past he has shown that he has internal contacts to the publisher, who have passed him some information that turned out to be true.
In the video j0nathan actually gives a lot of clues about next Assassin's Creed, including the already rumored French setting during the Hundred Years War. Let's see what these clues are: a Templar cross; a map of the island of Cofu, Greece; the geographical coordinates of Dubrovnik in Croatia and Schleswig Holstein in Germany; codes for the colors blue, white and red (the French flag); a ring; the geographical coordinates of Sofia, Bulgaria; a QR code for Spotify that leads to the page of an artist named Edmund; the binary code 2022; an image of the Al-Aqsa mosque; the image of a mountain.
From this information it was deduced that the game is scheduled for 2022, a year that would fully respect Ubisoft's new planning for the series, which Ubisoft Sofia is developing and he
is set in
France, in Lorraine, during the Hundred Years War. Who knows if Joan of Arc will be there too. Maybe she will be the protagonist. The killer maiden of Orleans.
Source
---
Assassin - Bing News
Assassin's Creed Valhalla Gets Steep Discount for Today Only
Over at GameStop, Assassin's Creed Valhalla hasn't been discounted by 50% as today's daily deal. This means that rather than paying the usual $59.99 price for the game, you can pick it up now for only ...