PS5: Sony will buy Bluepoint? It's just a matter of time
PS5
Accompanying the launch of
PS5
last November, there was one of the most anticipated remakes by
PlayStation
fans: that of Demon's Souls. Welcomed with great enthusiasm, the work done by the guys at Bluepoint Games in bringing to life a great classic released on PlayStation 3, has allowed us to live (or relive) the progenitor of what has become the much appreciated souls-like genre.
Before the remake of Demon's Souls, however, the guys at Bluepoint already showed off their great skills by re-proposing another great Sony exclusive title. Let's talk about Shadow of the Colossus, which also arrived on
PS4
thanks to this team. Now, for several months the rumors have been talking about a possible acquisition of Bluepoint by Sony, and according to some insiders everything is already written and it is only a matter of time.
According to the user "Transistor" , moderator of one of the forums on the social Resetera, at this point the acquisition of Bluepoint by Sony is something practically taken for granted. "There have been rumors from multiple sources about Sony's acquisition of Bluepoint. It will happen, it's just a matter of time ". This is when the forum moderator wanted to point out after a bickering with another user.
At the moment neither Sony nor Bluepoint have not yet announced any type of acquisition, but if the rumors are going following in these months have really foundations it is likely that the long-awaited announcement could come sooner or later. Waiting for new news about it, what do you think Bluepoint
is working on
on PS5? Would you like another remake or would you rather see the team working on developing their IP? Tell us with a comment in the dedicated section.
Waiting for new PS5 stocks, you can buy Sony
Pulse 3D headphones
on Amazon this address.
---
Good News: Gold PS5 For Sale – Bad News: It Costs $499,000
Despite the fact that it's been over 3 months now since the PS5 was released, actually getting hold of one (and for a reasonable) price still, unfortunately, remains a very stubborn and keenly felt issue with gaming consumers. There is, however, some potentially good news for you. Well, if you're absolutely desperate for a PlayStation 5 while also having more than a little appeal towards the finer things in life. Well, actually… This 'good news' is actually pretty much entirely dependant on how healthy your bank balance is when you read this.
Why? Well, yes, there's a PS5 for sale! Better still, it's Golden!!! – The only downside is that it costs $499,000 (no typo). And just in case you were wondering, no, this isn't the work of an exceptionally optimistic scalper either!
Gold PS5 Goes On Sale
Announced from bespoke and luxury gadget firm 'Caviar', the Gold PS5 is officially available for purchase now. Yes, they actually have PS5's in stock and available to buy. The only downside is that these particular models cost $499,000. You know, since it has actually had its standard surrounding case replaced with actual gold. Something that should perhaps be a little mildly concerning as it's my understanding that gold is very conductive…
Anyway, on the plus side, if you can't quite afford the 'Gold' version, there will be a 'Carbon' and 'Leather' edition version released in the very near future with prices starting at only $5,800!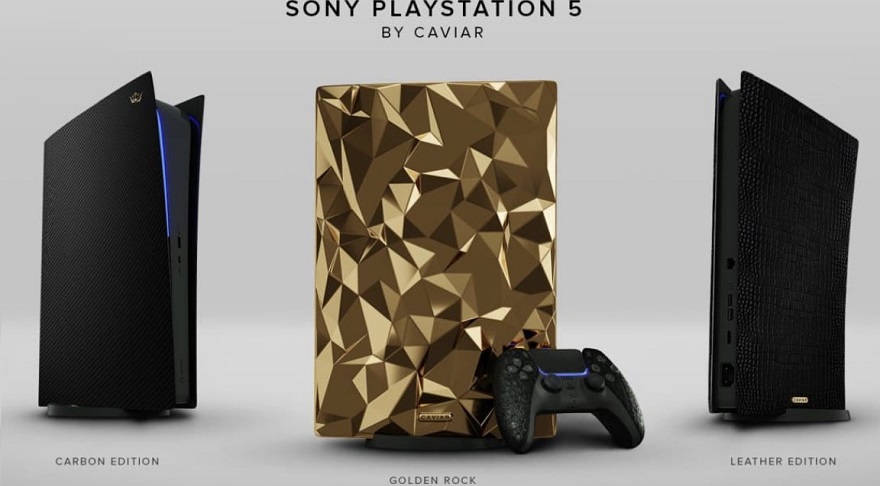 What Do We Think?
So, just in case it needed to be said, these consoles have not been produced for the likes of us. We're talking about the mega-rich with more money than brain cells. I have to admit though, on an aesthetic level, I do rather like that 'Gold' case. Albeit, I daresay that for about $20 you could probably buy a third-party one that looked exactly the same. Yes, it'd be plastic, but you could tell people it was actual 'Gold'! – If only you could actually get a PS5 to put in on though…
If you do, incidentally, want to learn more about these highly-bespoke PS5 systems, you can check out the official Caviar product website via the link here!
What do you think? – Let us know in the comments!