Milan Games Week: MGW-X will have six dedicated Twitch channels for this digital edition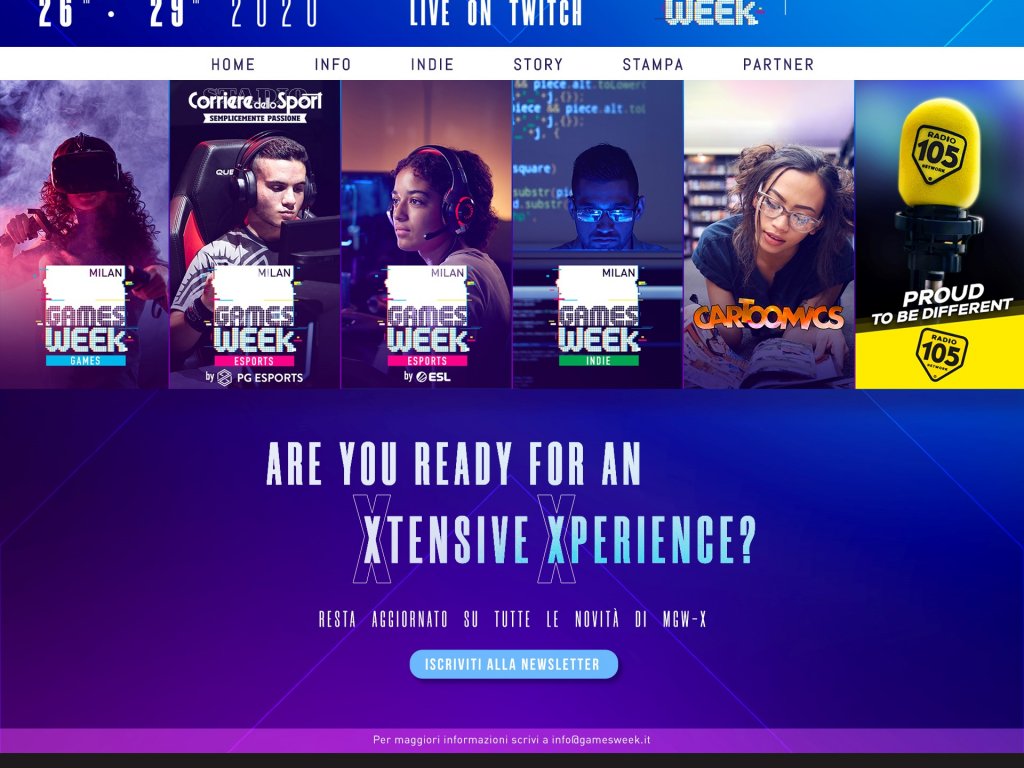 To allow everyone to experience this strange and tenth edition of Milan Games Week in safety, the organization of the event has decided to open six official MGW-X Twitch channels through which the most famous faces of the Italian industry will alternate for show all the news of this year. The channels will be accessible directly from the Twitch home page.
Milan Games Week has for years been synonymous with the celebration of the all-round videogame, an event dedicated to the favorite medium of young people and everything that revolves around it, from export to digital entertainment, up to practically every aspect related to geek culture.
Videogames are the center and foundation of what has now become a fixed appointment for all fans, now in its 10th edition, which will be for the occasion in all digital format and is called MGW-X. Within such a setting, gamers from all over Italy and beyond, will be able to enjoy an unprecedented 4 days of entertainment and fun from the comfort of their home by connecting to the Twitch homepage, where the 6 channels of the very rich offer signed by MGW will be present. X.
Inside the Games channel, in addition to the Opening Night, which will mark the beginning of the event, there will be unpublished and exclusive contents, with interviews, gameplay sessions with streamers and celebrities, in-depth articles and previews. Together with Bryan Ronzani, voice of Radio 105 and face of the web, host of the MGW-X Games channel, there will be some of the creators most loved by gaming enthusiasts and beyond, for a truly unique schedule.
Among the most awaited moments, how can we not mention the in-depths and gameplay with the
new generation
consoles by influencers such as Mikeshowsha and Sabaku no Maiku and cartoonists Giacomo Bevilacqua and Zerocalcare, who will play together for the first time on
PlayStation
5. There will be exclusive interviews with prominent figures in the development of
video games
.
And not only that: the gamer Cydonia will reveal all the secrets of Pokémon Sword and Pokémon Shield and the overwhelming sympathy of the mythical SIO will amuse all fans of the
Nintendo
mascot par excellence with the
Super Mario
3D All-Stars collection. As per tradition, then, also in this edition there will be GamestopTV, which will show some of the most anticipated and appreciated games by the public, such as
Cyberpunk 2077
, Demon's Souls for PlayStation 5, and Assassin's Creed: Valhalla.